I busted four boxes and the 12 autos were:
Jesse Metcalfe - Smallville
Mercedes McNabe - Angel
Ian Buchanan - Alias
Charlie Weber - Buffy MOS
M.C. Gainey - Lost revelations
Morena Baccarin - Firefly
Tina Majorino - Veronica Mars
Tori Spelling - Smallville
Chad Faust - The 4400 (x2)
Marc Vann - Angel
Tim Conway - Scooby Doo
Hidden boxes were:
X-Files IWTB
Indiana Jones Heritage
The Seeker the dark is rising
American Idol 2009
The best hits were a Gillian Anderson auto from the X-Files box ( the one card I still needed so a brilliant pull for me) and these two sketches from Indiana Jones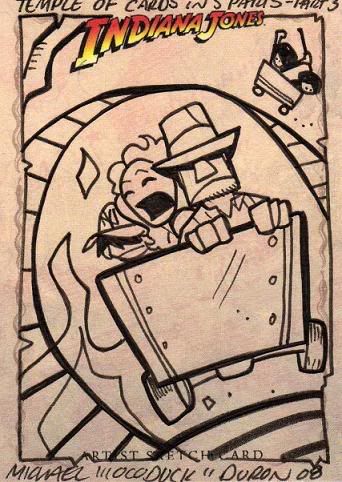 I have no clue on the artist of this sketch, anyone know??
Anyway, I was thrilled with my pulls and really enjoyed opening this product