Non-Sport Update's Card Talk
Transformers Optimum Collection (Breygent, 2013)
May 20, 2013, 12:39 PM
Chuck Bartowski
Transformers Optimum Collection (Breygent, 2013)
The San Juan and Cover puzzles are top notch...I love the detailing they can do on puzzle sketches I'm just not a fan of them in general. It does seem like the cases with puzzle sketches have multiple puzzle sketches them them along with a Nimoy auto, and some patch variants of the costume cards because the case I opened with puzzles was similar to yours.
July 27, 2013, 02:57 PM
MILLHOUSE
Hi Millhouse here got to boxes and in one of the boxes I pulled this very nice sketch card
URL=http://s415.photobucket.com/user/mixman132/media/2014_zpsf54ea26f.jpg.html]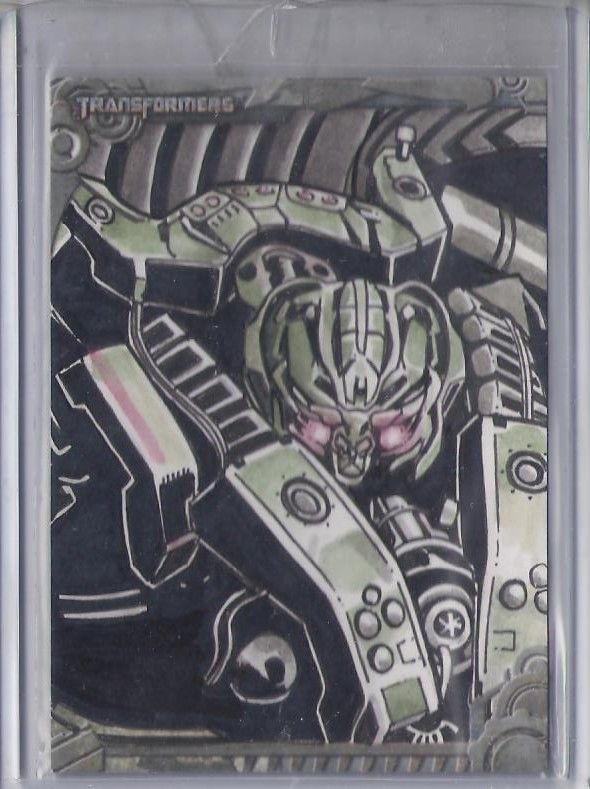 [/URL]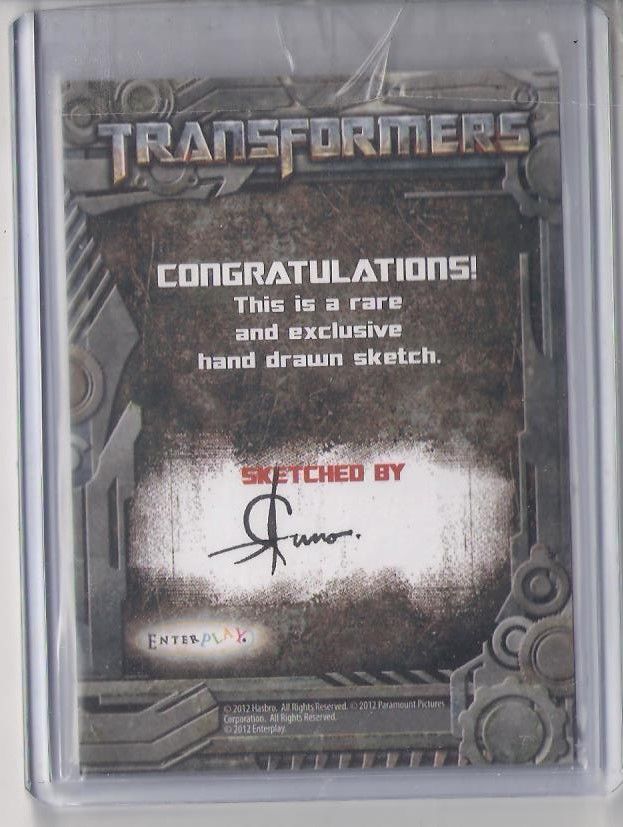 Please can anyone tell me who the artist is
Cheers from Millhouse
July 27, 2013, 07:09 PM
t.breyer
Juno Sanchez
August 11, 2013, 09:45 PM
venom5liter
3-box break:
August 18, 2013, 01:44 AM
MILLHOUSE
Hi Millhouse here bought myself a case and one loose box of this product and here are the highlights of my box breakdowns
Sketch Cards I got 16 in total the highlights were the following
1) Bianca Thompson ( did only 10 sketch cards)
2) Aston Roy Cover
3) Jim Kyle
4) Lin Workman
5) David Harrigan
6) Vanessa "banky" Farano
7) I also got a sketch card but Im not to sure you the artist is. So here is a scan of the artist signature
Could some tell who's signature it is
Also I got 3 comic panel cards
and on the autograph card front I pulled the regular auto's and a Rachel Taylor (Maggie Madsen) autograph card. So overall I was really happy with what I pulled. I forgot that I also got 4 TP2 relic cards and 1 TP1 relic card and also 4 costume cards TC1/TC2 and TC3
This message has been edited. Last edited by: MILLHOUSE,
August 20, 2013, 12:11 PM
MILLHOUSE
Update with scans of the sketch cards that I pulled from the 15 boxes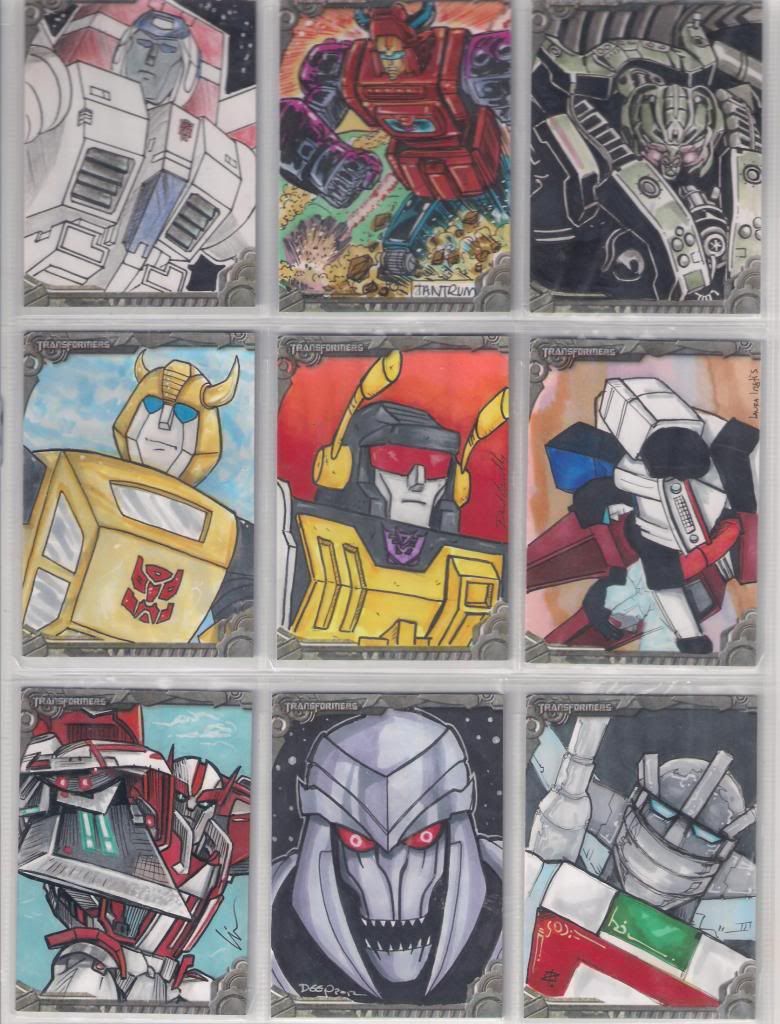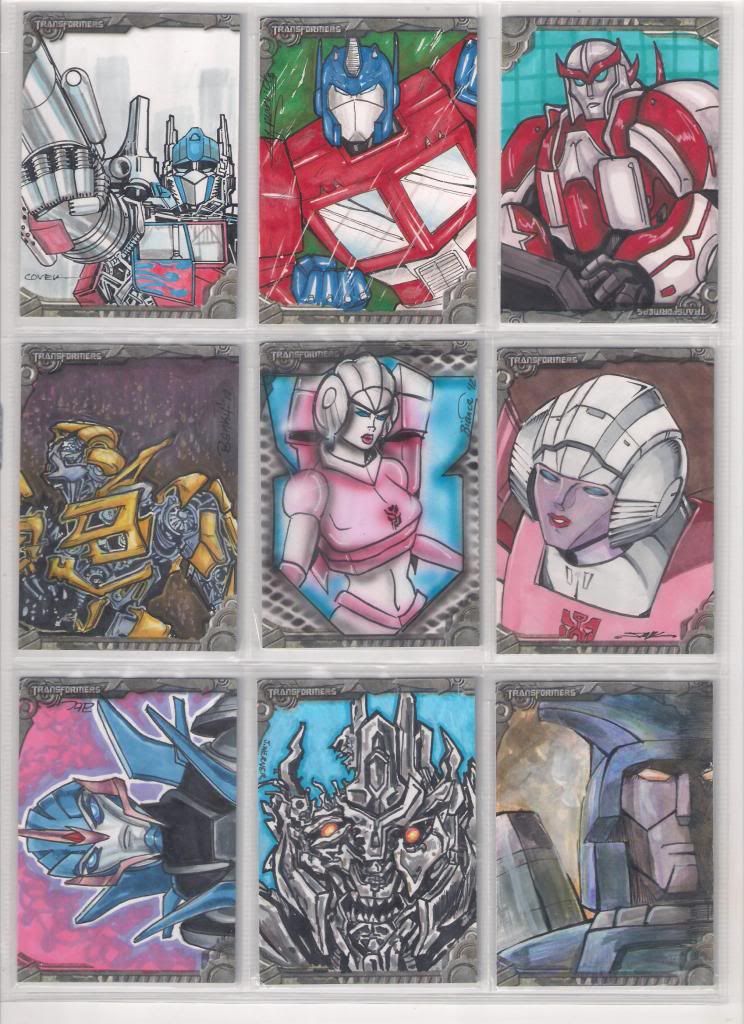 Also I found that the sketch card was done by Chris Fulton
Overall very happy with the sketch cards that i pulled
From a very happy millhouse
January 23, 2014, 05:34 PM
Kevin F
After holding off for a very long time, I finally caved in and opened one of my Transformer cases today. The results were not too bad. I got a good selection of sketches. My only real complaint there would be the one duplicate artist I pulled resulted in two sketches of the same robot. Other than that, there's some nice artwork in the cards I found. Collation on the base and chase sets was excellent. I got four complete sets of both foil chase sets which is perfect from a 12 box case. The only miss was that one of the boxes was one card short of a full base set but that was easily made up from one of the other boxes :-)
The sketches in these scans are in the order I found them. I don't know much about the robots/characters, so only a handful of names:
George Calloway - 'Jazz', Steve 'Sly' Lydic - 'Optimus Prime', Mark Marvida - ???
Elmer Damaso - 'Optimus Prime', Rodney Fyke - ???, Gemma Magno - ???
Jamie Snell - ???, Mark Marvida - ???, Jake Sumbing - 'Optimus Prime'
Boo - 'Hot Rod', Denise Parrish - ???, Allen Geneta - ???
Michael 'Locoduck' Duron - 'Bumblebee', Marcel Ferreira Jam with Unknown Artist - ???
These are the nine auto cards I pulled:
And finally, the four comic Panel Cards I found. All TCP-35, panels 8, 10, 11 and 12:
Any help identifying the 'characters' would be appreciated.
February 06, 2014, 09:08 AM
Kevin F
I caved in and broke open my other two cases of Breygent Transformers. it seemed like the right thing to do after letting them sit there for over six months. Nothing new in the autographs as I did not pull a Leonard Nimoy, so I'll just go with the sketches and comic panels this time.
Sketches Case 1:
Frankie B Washington (Slingshot), Scott Zambelli (Hound), Frankie B Washinton (Bumblebee)
Adam Cleveland (???), Neil Camera (Bumblebee), Jason Westlake (Bumblebee)
George Deep (???), Chris Fulton (Bumblebee), Aston R Cover (Bumblebee)
Jake Sumbing (Optimus Prime), Bianca Thompson (Bumblebee), Gemma Magno (Optimus Prime)
Allen Geneta (Megatron), Kimberley Dunaway (Hotrod/Rodimus Prime), Mark Marvida (Blaster)
Sketches Case 2:
Marcelo Ferreira (Perceptor), Jan Michael Aldeguer (Beachcomber), Dan Gorman (Inferno)
Elmer Damaso (Sunstreaker), Adam Cleveland (???), Frankie B. Washington (Soundwave)
Jason Westlake (Sentinel Prime), Scott Zambelli (Cyclonus), Dan Borgonos (Optimus Prime)
Neil Camera (Bumblebee), Tim Levandoski (???), Scott Alan Gregory (Bumblebee)
Jim Kyle (Galvatron)
Comic Panels:
Case 1:
TCP-43 panels 7, 8, 9, 10 of 13
Case 2:
TCP-41 panels 1, 2, 3, 4 of 19
Any help with idenifying the Transformers would be appreciated as I really didn't get very far with these
This message has been edited. Last edited by: Kevin F,
February 07, 2014, 09:17 PM
ifish73
quote:

Originally posted by Kevin F:

Sketches Case 1:

Frankie B Washington (Slingshot), Scott Zambelli (HOUND), Frankie B Washinton (Bumblebee)

Adam Cleveland (MOVIE MEGATRON(not sure)), Neil Camera (looks like Bumblebee also), Jason Westlake (Bumblebee)

George Deep (???), Chris Fulton (Bumblebee), Aston R Cover (Bumblebee)

Jake Sumbing (Optimus Prime), Bianca Thompson (TV SHOW BUMBLEBEE), Gemma Magno (Optimus Prime)

Allen Geneta (MEGATRON), Kimberley Dunaway (HOT ROD OR RODIMUS PRIME(same character from cartoon movie)), Mark Marvida (BLASTER)

Sketches Case 2:

Marcelo Ferreira (PERCEPTOR), Jan Michael Aldeguer (going with PIPES), Dan Gorman (INFERNO)

Elmer Damaso (SUNSTREAK), Adam Cleveland (???), Frankie B. Washington (Soundwave)

Jason Westlake (Sentinel Prime), Scott Zambelli (GALVATRON), Dan Borgonos (Optimus Prime)

Neil Camera (Bumblebee), Tim Levandoski (???), Scott Alan Gregory (Bumblebee)

Jim Kyle (GALVATRON)

(
February 08, 2014, 07:11 AM
Kevin F
Thanks for the help ifish73. I've updated my post with your findings along with some from over on the BlowOut Forums. Just a few left to find now