Non-Sport Update's Card Talk
LOTR Masterpieces 2 (Topps)
March 14, 2008, 07:33 AM
Szym
LOTR Masterpieces 2 (Topps)
I don't know what I prefer: the smile on the little girl face or the Arwen by Pence.
. Great pulls.
March 18, 2008, 01:21 PM
Wingsi
Got my box today.
Three base sets, full set of both foils and bronze parallel #9.
Sketches:
Oh well, better luck next time
March 19, 2008, 03:27 PM
MILLHOUSE
hi millhouse here i got 12 boxes from my local comic fair in london sunday just gone and got the following sketch cards
1) woodside-4
2) waterhouse-gandalf and ?
3) woodall-gandalf and ?
4) bruce gerlach-?
5) otto dieffenbach-?
6) della vecchia-gandalf and ringwrath
7) zach glallongo-gandalf
8) grant gould-cave troll
9) james bukauskas-?
10) mike segawa-cave troll
11) kevin doyle-aragorn
12) spencer brinkerhoff-gimli
13) mark prospt-gollum
14) tristan henry willson-?
15) chris henderson-gollum
16) megan correnti-the one ring
17) jh/jp aragorn 054
18) steven miller-arwen
19) soni alcorn-hender-strider
millhouse
March 21, 2008, 07:58 AM
justm
Box 3 breakdown. Happy with these too!
Grant Gould:
And this fantastic Boromir by Jan Dursema:

____________________
Any airsofters out there ?
March 25, 2008, 05:36 PM
scott12
Got 2 boxs last week.
These are the sketch cards.
This message has been edited. Last edited by: scott12,
March 25, 2008, 07:06 PM
Mdelbene
Our Third case:
Character: Helmethead
Artist: Waterhouse
Character:
Artist: Woodside
Character:
Artist: Woodside:
Character: Arwen
Artist: Zach Giallongo
Character: Ring Wraith
Artist: Christian Della Vecchia
Character: Legolas
Artist: Christian Della Vecchia
Character: Frodo
Artist: Locoduck
Character: Orc
Artist: ??????
Character: Gollum
Artist: Dave Fox (I think)
Character: ?????
Artist: Cassandra Seimons
Character: ?????
Artist: ?????
Character: Sam
Artist: Dustin Weaver
Character: Gollum
Artist: Richard Woodall
Character: Elrond (?????)
Artist: ??????
and finally this beauty
.
.
.
.
.
.
.
.
.
.
.
.
I didn't want to take a guess at the artist and be wrong.
Character: Gandalf
Artist: ??????
Any help with artist or character is greatly appreciated.
Mike

____________________
e-bay ID: mdb92951

Check-Out-My-Cards ID: BigI929Deals
March 25, 2008, 07:10 PM
igman7
quote:
That is a very nice Darla Ecklund Gandalf.

____________________
Feeling happy? Then rip open a box. Feeling blue...then rip 2!
March 27, 2008, 06:09 AM
allender
Speculation on a few of the artists. #8 is probably James Bukauskas, both from style and because he had a lot of confirmed, unsigned sketches. #9 (if I counted right) is indeed Dave Fox. #11 might be Dan Beswick; he was supposed to have drawn for the set, and this is the first I've seen with that sig (or known to be by him). The few other sigged examples of his art I found are all on grantgould.com, and he uses "DB", but I'm not totally convinced by style of art or sig. But I can't think of anybody else it could be.
.
March 27, 2008, 11:04 AM
batmantdk
2 base sets
etched foil set (2)#3, (2)#4,#5,#6
my 2 sketches
March 28, 2008, 09:52 PM
swjedi2000
Here are the results from 2 cases:
1. Artist?
2. Grant Gould
3. Woodside
4. Howard Shum
5. Noah Albrecht
6. Rich Woodall
7. Rich Woodall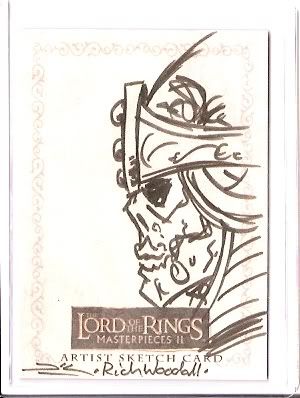 8. Mike Segwa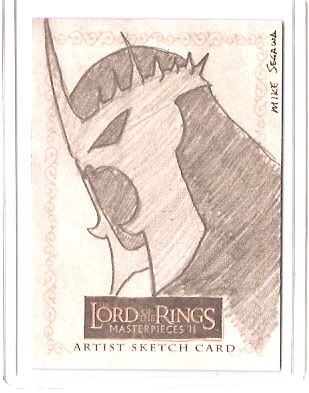 9. Artist?
10. Dalla Vecchia
11. Artist?
12. Ramsey Sibaja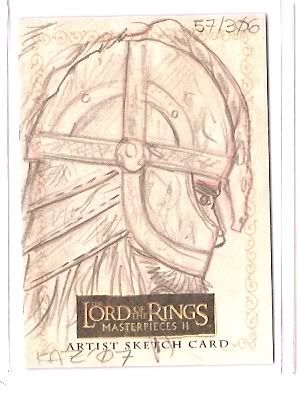 13. Artist?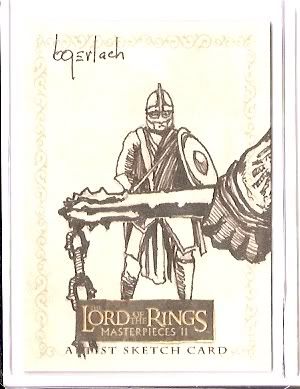 14. Astist ? Jon?
15. Zach Giallong
16. Artist?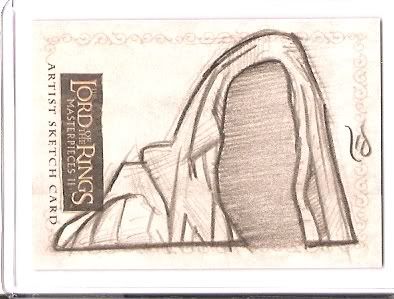 17. Nicole Falk
18. Nicole Falk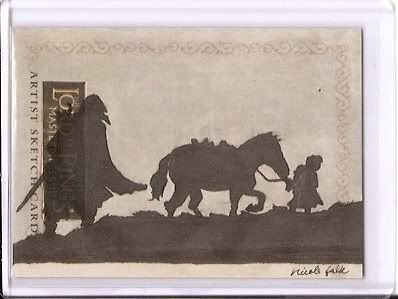 19. Alex Buechel
20. Artist? Great Sketch!
21. Artist...I know I show know this sig?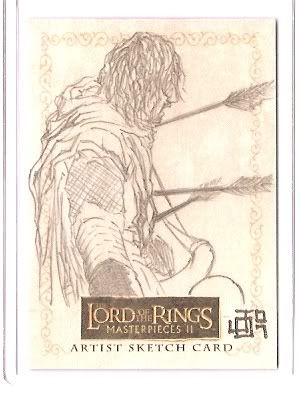 22. Tess Fowler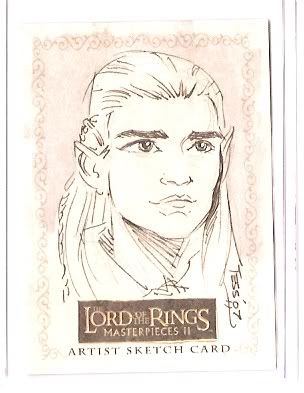 23. Patrick Richardson
24. Patrick Richardson
25. Patrick Richardson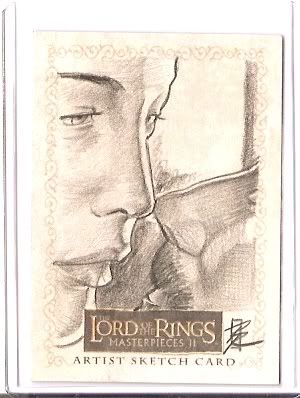 26. Cynthia Cummens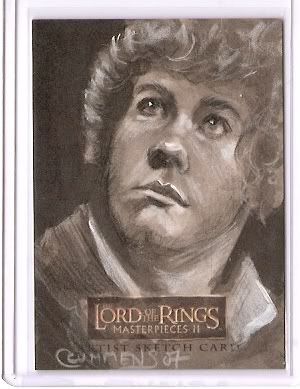 Please let me know if you know any of the artist or number of sketches.
Thanks BB
March 29, 2008, 03:46 AM
DaveSB
Number 9 looks like Kate 'RED' Bradley

____________________
Dave
March 29, 2008, 03:54 AM
justm
Just having a quick look down your sketches:
1.Ryan Waterhouse
11.Tristan Henry-Wilson
13.Bruce Gerlach
16.Kevin Doyle
21.Jon Ocampo
I'd need a proper look at the rest, but hope this helps.

____________________
Any airsofters out there ?
March 29, 2008, 07:05 AM
allender
The other two:
14. Jon Morris
20. Jim Kyle
April 01, 2008, 07:06 AM
pjt
Hi,i bought a case from Memorabilia on Sunday and thisis the pick of the bunch,i hope you like them.
Tony Perna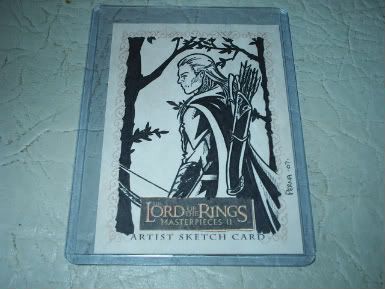 Don Pedicini Jr
Tony Perna
Wayne Lo
Chris Henderson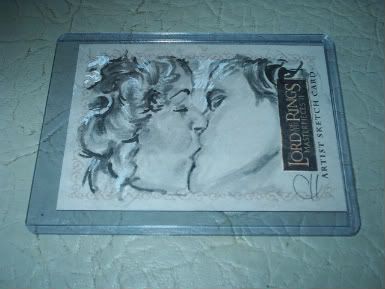 Alison Sohn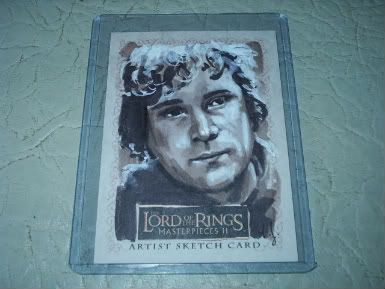 Steve Miller
And the excellent Jamie Snell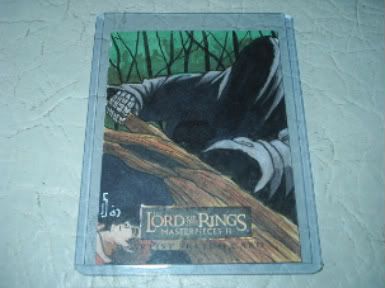 I had to get the sketches confirmed on another site as i am not very good at reading some of the signatures.
I would love to keep them but i need the money so they are going to have to go on that site at sometime soon.
Phil
April 01, 2008, 08:42 AM
steve j
Nice case Phil. Hope you enjoyed Memorabelia.
April 01, 2008, 06:00 PM
KADRAN00157
Some awesome sketches there
KADRAN00157
April 01, 2008, 08:48 PM
samauto
I love the Snell PJT.
Pete.

____________________
Looking for Non Sport Autographed cards and Memorabilia cards from TV/Movie shows.
April 02, 2008, 03:33 AM
pjt
Hi thanks for the nice comments.
Phil
This message has been edited. Last edited by: DaveSB,
April 02, 2008, 05:11 AM
kjn
Mdelbene:
Taking a look at your sketches I'd say here's what you have:
First two are Rohan warriors by Waterhouse, second two could possibly be Faramir by Woodside, your first Dalla Vecchia is the Balrog, your Orc is by Bukauskas, "The Ring is Mine" sketch looks to be Frodo by Kate Bradley, your Weaver sketch is of Merry, and I'd venture a guess that your next to last sketch is Wormtongue by Guttierez, and your Gandalf is indeed a very awesome Darla Ecklund.
Hope this helps.
April 02, 2008, 07:56 PM
Soul-on-Fire
I got 2 further boxes and pulled these beauties. I have never been happier with my pulled sketches!