Non-Sport Update's Card Talk
Star Wars Revenge of the Sith 3D WV (Topps, 2015)
August 22, 2015, 01:31 PM
RedFive
Star Wars Revenge of the Sith 3D WV (Topps, 2015)
I purchased one box. Great looking box. 3D cards look really nice.
Hits: One patch card and one sketch (Bail Organa by Tanner Padlo)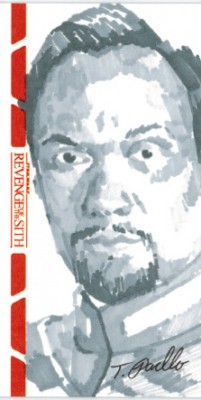 August 23, 2015, 02:13 PM
igman7
Haven't ben doing much on the boards lately as I am dealing with some family issues that take precedent over anything else.
Decided to buy 3 of these sets for the fun of it and here are the results:
C3PO Bronze 32/60, Yoda Silver 04/30
Rich Molinelli

____________________
Feeling happy? Then rip open a box. Feeling blue...then rip 2!
August 23, 2015, 04:58 PM
Raven
That last sketch by Patricia Ross is one of the best I've seen in this product so far. I prefer ones with a true likeness to the actors and that one captured it.
On a side note, what is with the Authentic Medallion cards? Just how do you call a manufactured item authentic, or is there some other meaning to the word? Can you have an authentic fake relic?
August 23, 2015, 06:56 PM
mintoncard
What is the BB-8 The Force Awakens card from? I don't recall those being included in the ROTS 3D Widevision boxes.
August 23, 2015, 07:11 PM
chesspieceface
It's one of 8 "Force Awakens" promos that were inserted in the Sith 3D sets (as either a last minute addition or an unadvertised bonus that was planned).
The set of 8 is made of images from the first movie trailer. They were originally designed as virtual cards for an Entertainment Weekly magazine feature that revealed the character names shown on them, Kylo Rey, Rey, Finn, Poe Dameron, etc. These are on modern card stock.
As there are 8 different ones and they are definitely not in every one of the 2,000 sets, they will be fairly limited. If they are found at the rate of 3 per every 10 boxes, for instance, there will be a total of 600 of them, so just 75 of each of the 8 different cards in the set.
They were previously issued on old-timey Heritage stock, with several sets of 4 of them issued as an unannounced bonus in selected cases of "Star Wars Illustrated ESB" earlier this year, and the other 4 were found in the Lando promo Marvel comic at comic-con, one per issue. ESB Illustrated packs and the Lando comic appear to be the only way to get them on the "Heritage" card stock.
The same set of 8 are also in the newly released Jedi Sith chrome set in two variations, a 1 per box insert with the chrome finish and the tougher 1 per case insert on regular, non-heritage card stock. I don't know if these rare variations are the same as those found in the Sith 3D set yet, though. I haven't seen them in person. I get my Sith sets in on Tuesday.

____________________
Everywhere around this burg they're running out of verbs, adverbs, and adjectives. Everywhere around this town, they're running out of nouns.
August 27, 2015, 10:40 AM
Kevin F
FedEx got me out of bed when they delivered my 10 boxes of Sith 3D this morning but I'm not complaining....too loudly
Sketches:
Roy Cover, Tom Carlton
Adam Talley, Andy Fry
Marcia Dye, Melike Acar
Lord Mesa
Andrew Cosson, Robert Henrickson, Josh Bodwell
Sketch Medallions:
Matt Stewart, Chris West
Regular Medallions:
Silver Darth Vader, Bronze R2-D2, Bronze General Grevious
Patches:
Silver C-3PO, Bronze Chewbacca, Bronze C-3PO
Autos:
Promos:
All in all, a very nice selection all round with something of everything.
August 27, 2015, 05:19 PM
chesspieceface
Good stuff above! Nearly all of the sketches are superb, and even the "lesser" ones aren't bad. Well done!
Here's my own, also a nice mix of the different variety of hits. I got 8 boxes, but I made a point of putting 4 on one order and 4 on another, my thought being that the autographs and Force Awakens promos were in about every 4th set. By splitting the order, I hoped to beat the odds and get more than 2 of each, as those are my main interest, and I did just that, getting 3 of each. Of course that could've gone the other way, and I might have gotten less than 2 of each, but the odds were ever in my favor (oops, wrong franchise).
I was mildly disappointed to see Topps didn't number the reverse of card #1 to match the box number like they did with "Jedi 3D", but these Sith 3D base cards are the best looking yet, possibly a little thicker than the other two recent previous 3D issues, Empire and Jedi, so it's easily forgiven.
The Bai Ling Autograph is the Silver variant, numbered 07/15. I got two patches of Chewie, the regular bronze numbered to 60 and the Silver numbered to 30.
Sketch-wise, I love the Roy Cover R2-D2, and even though I need to get back some of the money I spent on these, leading me to list it for sale, I'm hoping it doesn't sell as I would like to keep that one. I had initially priced it lower than I have it now, but then I thought, if I sold it for that, I'd probably be wishing I had the card instead of that amount of money, and sooner rather than later, so I raised it accordingly, and again, will be happy to keep it.
I got 3 of the Force Awaken promos, but dupes of the Falcon, so I'm looking to trade that extra for one of the two I still need from Sith 3D (Kylo Ren or Finn) or any of the four paper variants (not the Chrome ones) from the new Chrome Jedi Vs. Sith set as I have none of those. If anyone wants to make that trade, do let me know.

____________________
Everywhere around this burg they're running out of verbs, adverbs, and adjectives. Everywhere around this town, they're running out of nouns.
September 12, 2015, 04:48 PM
blwilson
Opened my 1 box of this last week. Besides the awesome base set, I pulled an auto of Kenji Oates as Saesee Tiin, and a sweet sketch of General Grevious by Mick and Matt Glebe.
glebe-grevious
by
bw1138
, on Flickr

____________________
Members I've successfully traded with:
wuher, Scott Rammel, Bond, mars53, Arvin Sloane, Larry C., silmapco, MrSpeed719, spidergoblin, mark64, steve j, barrowjack, indypat75, ra4dunb, Avalon, hammer, Gregor1968, Rich, Scifi Cards, Ryan Cracknell, UofLHoops, Cee_Jay, rachandcarl, brandocles, venom5liter, Warrior Babe, manolito, SciFi Mom, Ariana, Craig, beleay, kidtrek, eman, iki927, jane
October 09, 2015, 02:15 AM
MARKPERRY2000
Finally got around to opening The Revenge of The Sith 3D.
REVENGE OF THE SITH Ed

____________________
Brian Singleton
October 12, 2015, 03:33 PM
Bill DeFranzo
Are all of the signatures on stickers?
This message has been edited. Last edited by: Bill DeFranzo,

____________________
Bill D.

AKA: Promo Czar (self-appointed)