Just opened a box of this set. It's very different to any other box I've ever seen. Only 5 packs per box and 1 card per pack, each one being an auto of either a top professional poker player (including actress Jennifer Tilly) or a cut-signature of a US President.
Since there were only 5 cards in the box, I was expecting a light package, but each card actually comes in a thick plastic case, slightly thinner than a screwdown case, but with a magnetic seal to let you get at the cards easier.
Here's my box breakdown:
SS-13: Jamie Gold (2006 World Series of Poker Champion)
SS-14: Phil Gordon
SS-54: Michael Grace & Kathy Liebert (dual auto)
SS-6: Hoyt Corkins
SS-3: Todd Brunson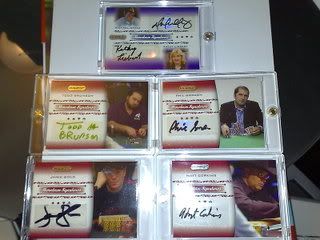 Overall, very pleased with those pulls. It feels like a classy set. If you are into poker at all, especially if you watch the pros, then this is worthwhile set to get into.