Non-Sport Update's Card Talk
Star Wars The Force Awakens Chrome (Topps, 2016)
August 20, 2016, 06:23 PM
RedFive
Star Wars The Force Awakens Chrome (Topps, 2016)
Star Wars The Force Awakens Chrome, Topps, 2016
I found these at Target:
1 - 16 card box (cards are cello wrapped) contained:
12 base cards
2 base refractors
1 ships & vehicles
1 Heroes of the Resistance
6 retail packs contained:
6 base refractors (1 per pack)
4 Heroes of the Resistance
2 Ships & Vehicles
1 Behind the Scenes
Nice cards.
August 21, 2016, 02:26 AM
mintoncard
Picked up a blaster box today at Target.
Box contained 10 packs & 1 numbered patch card.
(Blaster boxes come with one gaurenteed patch card.)
Each pack comes with a refractor.
The cards are ok, but I found some of the images on the cards to be a bit dark.
No major hits.
August 22, 2016, 12:17 PM
mintoncard
Grabbed another blaster box yesterday.
The patch card was a refractor numbered 120/199.
Nice.
August 31, 2016, 10:40 AM
xtime
HOBBY box...
24 packs, 6 cards each
93/100 near base set
24 refractors 1:1
12 Heroes of Resistance 12/18 1:2
6 Behind Scenes 6/12 1:4
3 Ships & Vehicles 3/11 1:8
2 Power First Order 2/9 1:12
1 prism refractor #56/99
1 pulsar refractor #2/10
1 shimmer refractor medallion #15/25
0 sketch, relic or auto
Overall grade D+/C-
Pros: Chrome, base refractor odds 1:1
Cons: I love Star Wars, but considering the COST per box this release falls short in big ways. Only ONE (so-called) hit per box guaranteed, and no complete base set per box. UGGH!!!

____________________

September 01, 2016, 10:30 AM
xtime
Picked up a blaster box...
9 packs, 1 patch card (Han Solo)
36 base
4 Heroes 4,7,9,13
3 BTS 2,4,9
1 Ship 7
1 Power 8
9 refractors
***ALERT*** ***ALERT****
Noticed the hobby base refractors are clear while the retail base refractors have a sparkle wavy lines pattern. What have you found?

____________________

September 01, 2016, 10:15 PM
Don Norton
I have picked up 2 blaster boxes of this product recently, and they gave me the bulk of my base set. I have also bought several hobby packs. I did get a nice sketch of Finn by Tina Berardi from those.
I have not always been a big fan of Chrome cards, as mentioned above, some are very dark, but with all the spaceships, droids, armor and weapons, this series lends itself well to the chromium treatment.
As xTime mentioned the hobby and retail refractors are very different. The Hobby ones are nicer, they don't have the "lines" featured on the retail ones. Also, I noticed in both my blaster boxes, all the refractors I received also had the regular base card, usually in the same pack.
December 26, 2016, 01:57 AM
MILLHOUSE
Hi Millhouse here got 6 hobby boxes for christmas and here is what I pulled from my 6 boxes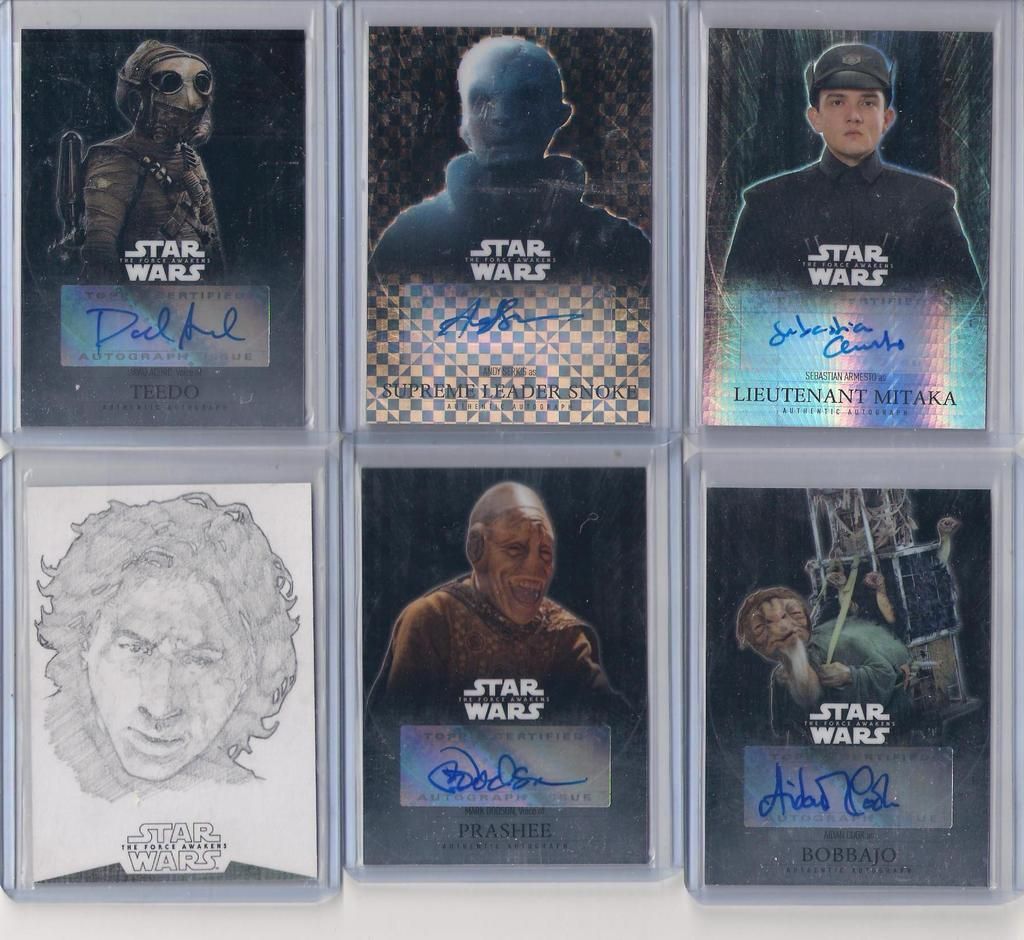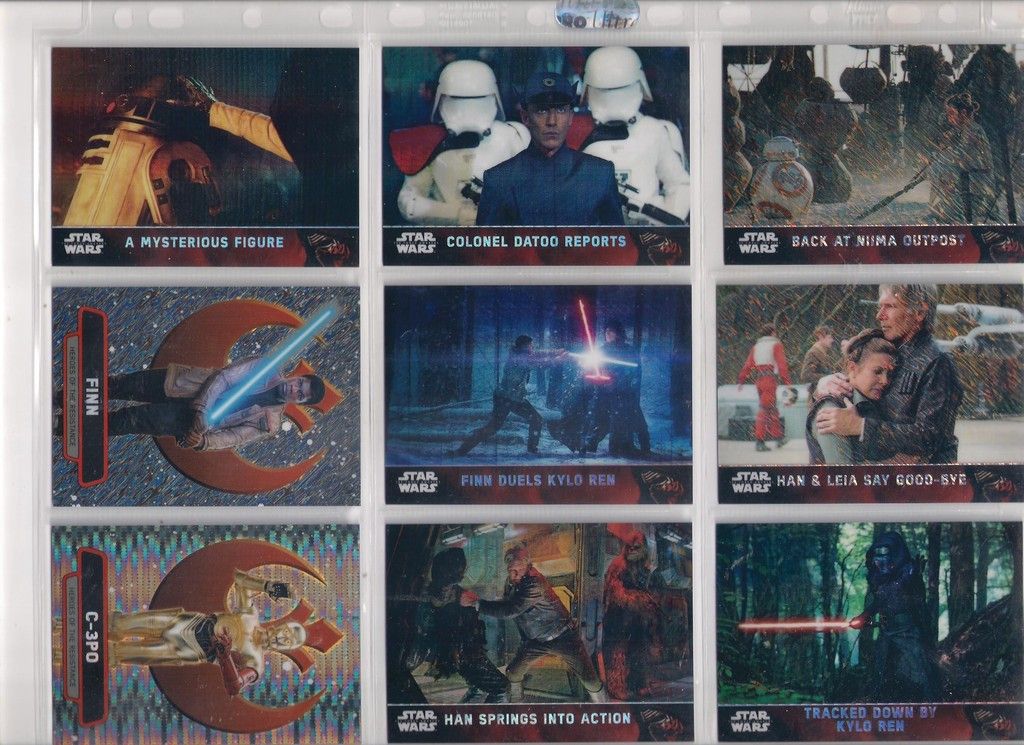 Right the Lieutenant Mitaka is 16 out of 50 and The Supreme Leader Snoke is 25 out of 25
The Finn chase card is Shimmer Parallel and is 46 out of 50 and The C-3PO is a Pulsar Parallel and is 6 out of 10 and I also got 5 out of 99 Base parallel cards and 2 out of 50 base parallel cards. Not to bad for 6 boxes from a very happy Millhouse
This message has been edited. Last edited by: MILLHOUSE,