quote:

Originally posted by Dragoncrypt:

Thanks Len for putting so much effort into all your cards! I love the cards you've done for this series. So much detail and effort into the cards and not just a few but a ton of them. I consider myself very lucky to be able to pull such a card considering the price that some of your cards go for on that auction site.

That's what I love about this set, so many artists putting so much effort into these sketches. I even love the more common ones. Thanks to all the artists who contributed to the set!

Here's to hoping Topps is planning a Star Wars version with this caliber of sketches!
Hey Dragon_Crypt...thanks again for the great compliment...it's collectors like you that made me want to really put my all into these cards...I really wanted to make cards that OCD people like me would enjoy pulling from packs...I'm glad it's in your collection...in fact quite a few of my cards have headed to the Great White North!
And Gotham_Knight...man, what a great 2 boxes you bought.
What are you going to do with that Dillon of Boromir in the boat...if you're selling it PM me a price and although I may not be able to afford it, I'd give it a consideration...Ray Dillon's pieces for this set are SPECTACULAR...his two panel pieces especially are so conceptually PERFECT...his Frodo in the Tree Reading coupled with his Collapse before the Eye Tower...and this Boromir two panel Death scenario and Boat Scene...really breathtaking...
I love that you pulled my Gandalf Escaping Isengard...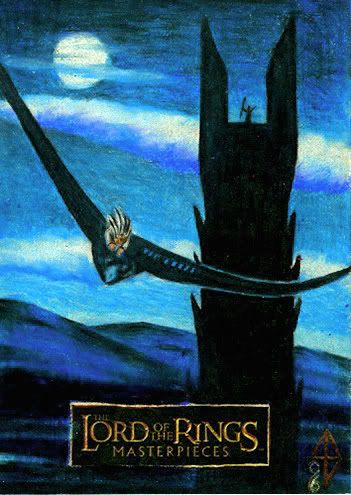 ...let me know where it's headed in case you sell or trade it...just trying to keep track of where my cards may wind up...love the "from there and back again" traveling that they're doing...
...and I agree...I can't wait for a Star Wars sketch set like MASTERPIECES and I would be first in line to do another 150 sketch cards for such an Anniversary sketch card set...LOTR and SW are classic good vs evil themes that are so beautifully myth-oriented...and working from a 6 film epic like Star Wars would really produce some cool and hypnotic images...
...which brings me to the warmth and romance in each and every Renae DeLiz sketch card out there...from Evolution and Masterpieces...to her work in Avengers...Renae's work is...in a word...MAGICAL...and I can give no greater praise than to call everything she does...real ART! Her work really transcends the sketch card arena and I can't wait to get a spectacular Eowyn PSC that's she's done for me in my grubby Gollum-like hands...because...I'm a mad dog collector also...
...in fact...I've just completed getting at least one sketch card from the entire 67 artist Masterpieces ensemble...a Kayanan would have made it the MASTER 68 but I had no such luck with my cases...but I'm thrilled to have completed this collection (as well as the 47 artist Evolution group) as there can only be 21 complete collections like this out there with Russell Walks having only completed 21 spectacular portraits due to circumstances beyond his control...I'm really pleased and extremely broke!
Hope you all have a great buildup to the Holidays and stay in good health...

____________________
'Follow your bliss'...Joseph Campbell
'Looking isn't as simple as it looks'...Ad Reinhardt