Originally posted by Thush:
Box 00050 opened.
Full base set
Gold Parallel cards: 3 (17, 40, 46)
First Cover cards: 2 (FC6, FC9)
Alex Ross card: 1 (centre card)
Sketch: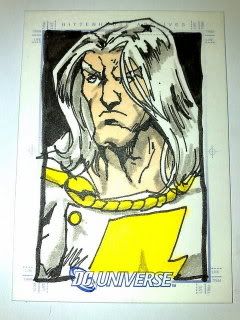 Any help identifying the character or the artist please?
Some of my base set cards only had half the glossy coating, which was odd. Especially since the duplicates of those cards had the same problem.