Cult-Stuff has done it again...another great set!
First Case...
Each case has 10 packs.
Each pack has:
A 36 card base set consisting of 18 cards using
Kurz and Allison Prints and 18 cards using original
artwork from Dave Sharpe and Matthew Zeigler.
Each pack also contains 2 of 9 chase cards and
1 of 18 parallel cards. The parallels are on canvas
card stock and consist of the 18 Kurz and Allison
cards and are great looking cards.
There is also 1 premium card in each pack which are sketch cards,
uniform fabric cards, Confederate Bond Artifact cards, and
redemption cards for actual bullets recovered from Civil War
battle sites.
My packs contained:
9 different parallel cards
2 9-card chase sets
2 artist info cards
3 - Civil War Fabric cards (1 hand numbered 19/60)
1 - Civil War Artifact Confederate $30 Bond (hand numbered 35/51)
5 - Sketch Cards
1 - 6-card Puzzle Sketch
Fabric Cards
Bond card, Chase card, Artist info card
Paulina Vassileva, Eric Van Elslande, Barry Linck
Adam Tally, Laura Inglis, Scott Fellowes(case topper)
6-card Puzzle Sketch by Clinton Yeager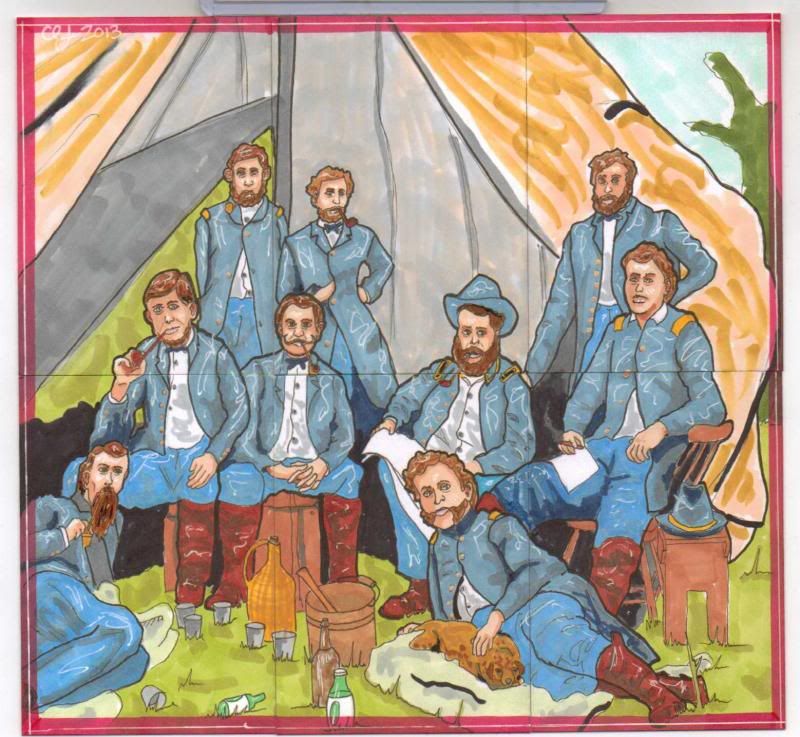 I've got another case and a pack or 2 on the way yet...
Greg

____________________
Please note the updated email address in my profile!