Jess
I knew I had some other Jurassic Park cards and after a rummage round I found the following
Jurassic Park The Lost World
KP Foods Group in the Spring of 1997 under their savoury snacks brand names "Skips, Hula Hoops, Mini Cheddars" issued a set of 36 cards bearing the words Jurassic Park The Lost World. 16 of the cards were classed as Mini size (38mm x 33mm) with the other 20 being classed as Monster size (75mm x 55mm). The "mini" cards were issued separately in individual promotional packs of Mini Cheddars and the "Monster" cards issued in promotional multi-bags. Note the cards themselves were enclosed inside a cellophane bag.
A Collectors File was available consisting of 12 pages with a pouch on page 12 to contain the cards which is kept closed by small sections of Velcro, it also lists the 36 cards in the two groups. The file refers to the cards as Pop-a-Saurus as the cards are pop-up cards with the mini versions being intended for use in a snakes and ladders type game illustrated across pages 10-11 of the file. The cards themselves feature scenes from Jurassic Park The Lost World as well as various art images of dinosaurs. The file itself measures 178 mm x 295mm when closed but when opened out to play the game it measures 534mm x 295mm.
The file also mentions that you can purchase complete sets of each.
I am sure that I would have purchased the entire set however all I have found so far is the collectors file and the 16 mini cards (still in their closed format and in strips of 4) but not the larger cards however after an internet search I have found images of the larger cards, all of which I have shown below:-
The Cover of the collectors file
[IMG:left]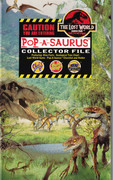 [/IMG]
The Contents page
[IMG:left]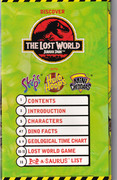 [/IMG]
The Checklist
[IMG:left]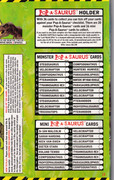 [/IMG]
Some of the mini cards in the strip of 4 cards when purchased from the issuer
[IMG:left]

[/IMG]
A Mini card front unopened
[IMG:left]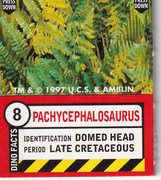 [/IMG]
a Mini card back unopened
[IMG:left]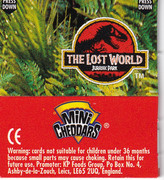 [/IMG]
a Monster card front unopened
[IMG:left]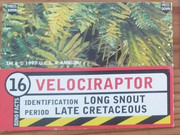 [/IMG]
a Monster card back unopened
[IMG:left]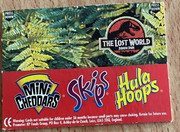 [/IMG]
a Monster card opened
[IMG:left]
[/IMG]
a card inside its cellophane bag
[IMG:left]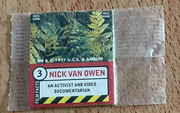 [/IMG]
regards
John

____________________