I have come across some Marvel cards issued by Marvel Comics UK way back in 1992. The cards do not have an overall series name but feature new characters or at least new characters to Marvel Comics UK. There are 24 in total with 12 cards depicting new characters from the Marvel Universe that were polybagged in the Overkill Comic issues published fortnightly on 25th September 1992, 9th October 1992 and 23rd October 1992 with 4 to each issue.
1 Hell's Angel (GF CS) 2 Death's Head II (GF) 3 Colonel Liger (GF) 4 Purge (GF)
5 Digitek (GF/CS) 6 Killpower (GF) 7 Misha (GF/CS) 8 Crowe (GF/CS)
9 Motormouth (GF) 10 The Guide (GF/CS) 11 Tuck (GF) 12 Master Key (GF/CS)
All were numbered and show a different character the from the Marvel Entertainment Group Inc. The front of the cards features a white border to the image with a smaller image on the back which contains some descriptive text in red and yellow. Artwork is by Gary Frank (GF) and Cam Smith (CS) as attributed. Card size was 90mm x 65mm.
The remaining 12 cards were polybagged in a new Marvel UK comic called "The Exploits of Spider-Man". 4 cards per issue and were found in issues published on 21st October 1992, 18th November 1992 and 16th December 1992. The cards followed a similar format to those numbered 1-12 except that the white border on the front incorporated a light blue spidery web pattern. Artwork is by Thomas Reilly and Rod Ramos with the numbering continuing on from the other cards as as follows:-
13 The Scorpion 14 Mysterio 15 Hobgoblin 16 Black Cat
17 The Lizard 18 Green Goblin 19 Electro 20 Venom
21 Doctor Octopus 22 Kraven the Hunter 23 The Vulture 24 Spider-Man
Card numbers 1-3 were also found mis-printed with each side having a blank back
I have attached 1 card from each of the two groups and the images are as follows:-
No 1 front
[IMG:left]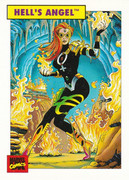 [/IMG]
No 1 Back
[IMG:left]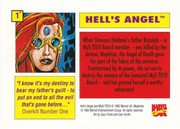 [/IMG]
No 16 Front
[IMG:left]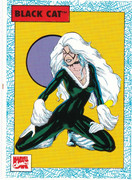 [/IMG]
No 16 Back
[IMG:left]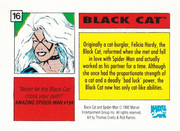 [/IMG]
The next series is titled Overkill
A set of 9 3-D cards were polybagged (3 per issue) with Overkill Comic in December 1993, January 1994 and February 1994 by Marvel Comics UK. A pair of cardboard 3-D glasses were also issued with the December issue. The cards were unnumbered with artwork by Bryan Hitch and their size is 89mm x 63mm. Captions appeared on both sides along with a biography on the back. The 9 cards in alphabetical order are as follows:-
Black Axe Colonel Liger Dark Angel
Death's Head II Killpower Motormouth
Plasmer Tuck Wild Thing
Unfortunately I don't have a record of which issue had which cards.
Front
[IMG:left]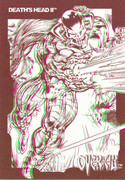 [/IMG]
Back
[IMG:left]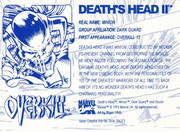 [/IMG]
Marvel's Greatest Villain/Villainesses
A set of 12 cards 3 being Villains and 9 being Villainesses from the Marvel world and polybagged 3 per issue in the comics mentioned below. Card size is 80mm x 55mm. I believe the comics were issued by Marvel Comics UK although the name Panini is also shown and were probably reprints of US issues under UK Marvel Titles which were:-
Essential X-Men Issue 79 published 7th November 2001
The Astounding Spider=Man issue 80 published 5th December 2001
Wolverine & Gambit issue 67 published 19th December 2001
The Avengers United issue 9 published 19th January 2002
The 12 cards are
1 Doctor Doom
2 Green Goblin
3 Magneto
these being the Villains and
4 Nightshade
5 Lady Deathstrike
6 Gatecrasher
7 Mystique
8 Typhoid Mary
9 Viper
10 Death Bird
11 Morgan Le Fey
12 Alkhema
being the Villainesses. Again I do not know which cards were in each issue.
Card No 3 Front
[IMG:left]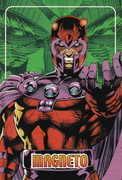 [/IMG]
Card No 3 Back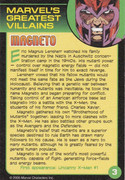 Card No 10 Front
[IMG:left]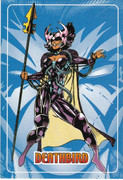 [/IMG]
Card No 10 back
[IMG:left]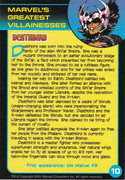 [/IMG]
regards
John

____________________