Originally posted by JOHN LEVITT:
quote:

Originally posted by catskilleagle:
S.

Saint, The (2002) Cards Inc. - addiitions for 2018
* the two cards below are not technically promos but are unreleased, unsigned autograph cards that appeared on the secondary market after the company went out of business
SA1 "Roger Moore"...ND
SA20 "Edward Woodward"...$3
Jess
I was looking through my Saint Album today (it has a mixture of Unstoppable and Cards Inc. sets) and discovered that I have unsigned autograph cards also for SA3 Annette Andre, SA4 Jane Asher, SA10 Johnny Briggs, SA15 David Graham and SA20 Edward Woodward so that's another 4 that can be added. I believe I am fortunate in that I do have a complete set of the Autograph cards duly signed in the album.
In addition to those cards I also found a blank Cards Inc. Sketch Card for 2000 A.D. and staying with the T's I can update Todd's entry for Thunderbirds entry on page 151 of the 2008 PCE in stating that the address shown on P1 is the Cards Inc Watford address, for P2 it is Paul Hart's address and for P3 the card states that is was issued with Thunderbird Magazine (which I believe is Issue 56 which does not bear a publication date.
See image below:-
[IMG:left]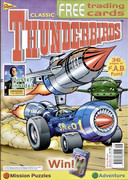 [/IMG]
regards
John