Non-Sport Update's Card Talk
New Mego Museum Cards
June 13, 2019, 03:26 PM
JOHN LEVITT
New Mego Museum Cards
Good evening
David R has asked me to post a couple of photographs that were post on the Mego Museum website.
[IMG:left]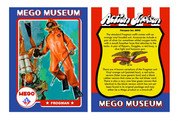 [/IMG]
This image shows the back and front of one of the 12 cards.
[IMG:left]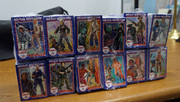 [/IMG]
This image shows the 12 cards ready for transport to the MM show.
regards
John

____________________

July 06, 2019, 08:03 AM
aeolus14ummbra
Regarding the new Action Jackson cards that were distributed at the recent 2019 MegoMeet in Columbus, OH: 12 (of the total 18) were released last month with the remaining 6 still in production to be released as a single group to the original card sponsors (and to other members for distribution) once they're received back from the printer. According to the MegoMuseum site ALL supplies of the first 12 cards have been exhausted.
July 11, 2019, 12:43 PM
David R
Bob, I just sent you an email.
Hope to hear from you. Thanks !
December 23, 2019, 12:14 PM
Tommy C
On the 18 new Action Jackson cards, do we know if all 18 were actually released this year ?
I have only seen 12 of the 18...
December 23, 2019, 06:20 PM
aeolus14ummbra
Only 12 (of the 18 total) have been released; at this point IMHO I don't really expect the remaining 6 to see the light of day prior to the 2020 MegoMeet in Columbus, OH sometime next summer (June, if I'm not mistaken).
June 30, 2020, 12:48 PM
Tommy C
Does anyone know if the final Action Jackson cards were ever released ? Maybe not, as I am assuming the Mego show this year was cancelled.
Reportedly Mego created 18 different cards, but only 12 were released at the June 2019 show, and they said the other 6 would come out in the future.