Non-Sport Update's Card Talk
New Mego Museum Cards
June 09, 2017, 11:43 AM
David R
New Mego Museum Cards
At the 2017 "Mego Meet" in Skokie, Illinois, June 16-17
4 new cards:
Tin Man, Wicked Witch, Wizard, Cowardly Lion
This message has been edited. Last edited by: David R,
June 09, 2017, 02:16 PM
David R
I wonder if these 4 are part of the long awaited missing # 91 to 98 ?
First new official Mego card since the # 99 in 2013 !
June 17, 2017, 08:30 PM
Kennywood
David,
Thanks for the notice of the Mego Meet. I was able to go today and also pick up an extra set of the 4 cards. They are:
92 - Mego Scarecrow
93 - Mego Tin Woodsman
94 - Mego Cowardly Lion
95 - Mego Wicked Witch
I'd be glad to send the 4-card set to you. I just need your address. Your email isn't in your profile. If you're interested, send an email to me with your name and address and I'll get the cards sent to you. My email address is in my profile.
This message has been edited. Last edited by: Kennywood,

____________________
Lucy Van Pelt: How can you say someone is great who's never had his picture on bubblegum cards?
June 26, 2017, 09:10 AM
David R
I can't contact you--your email is not in your profile !
Mine is
mistermycroft@msn.com
June 26, 2017, 12:11 PM
David R
Anyone know where card # 91 was available ?
Before these, I was aware of 1-90 and 99 only
December 16, 2017, 04:07 PM
Will
Resurrecting an older thread. Has there been any news on the missing cards (91, 96-98)? The sites I can find on the web are all hopeless outdated.
Also, does anyone have duplicates of any of the newest cards from Wizard of Oz available for trade? I'd be happy to help them find a new home.
December 19, 2017, 05:23 PM
Tommy C
No info on 91 and 96-98 that I am aware of
There is some talk that perhaps these 4 will also be Wizard of Oz related. After all, where are the cards of Dorothy and the Wizard ?
It was a big surprise when 4 new cards came out in 2017, as that was the first since card 99 of Zorro, many years back
May 25, 2018, 10:39 AM
David R
There will be 6 new Mego Museum cards at the 2018 Mego Meet on June 1-2 in Columbus, OH
There will also be a new sticker of "a classic Mego vehicle"
1 of the 6 new cards will be Dorothy from the Wizard of Oz
May 29, 2018, 09:43 AM
David R
Is anyone going to the show this weekend ?
June 04, 2018, 04:22 PM
David R
The new cards and sticker seem to be (not sure of the numbers)
Dorothy
Wizard
Glinda the Good Witch
Munchkins
Mystery Astronaut
Action Jackson preview card
Batcopter sticker
June 06, 2018, 10:44 AM
Tommy C
Dorothy is card 91, Glinda is 96, Wizard is 97, Munchkins are 98, and card # 100 is the Mystery Man
June 08, 2018, 07:41 AM
JOHN LEVITT
I have managed to find some images of the 4 Wizard of Oz series and the Batcopter sticker as below:-
Batcopter sticker
[IMG:left]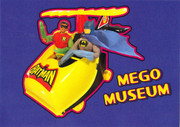 [/IMG]
Note the back is blank
Dorothy No 91 front and back
[IMG:left]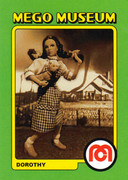 [/url[/IMG] [IMG:left][url=https://postimg.cc/image/63q25btz9/]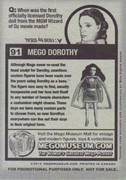 [/IMG]
Glinda No 96 Front and Back
[IMG:left]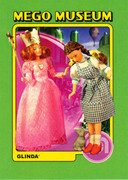 [/IMG] [IMG:right]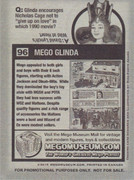 [/IMG]
Wizard No 97 Front and Back
[IMG:left]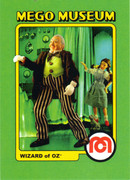 [/IMG] [IMG:right]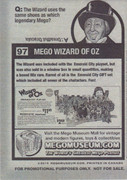 [/IMG]
Munchkins No 98 Front and Back
[IMG:left]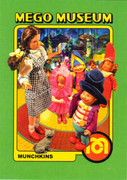 [/IMG] [IMG:right]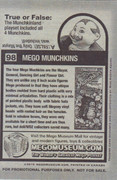 [/IMG]
Mystery Man as an Astronaut
[IMG:left]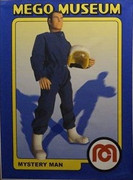 [/IMG]
The above image was taken from a photograph at the Mego Meet whereby three card images were shown as posters behind one of the tables.
[IMG:left]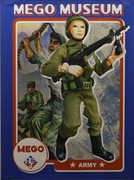 [/IMG]
Again another image from a photograph taken at Mego Meet. This time it is Action Jackson Army, a similar image to the preview image.
regards
John
Edited to add more images
This message has been edited. Last edited by: JOHN LEVITT,

____________________

June 08, 2018, 11:41 AM
Tommy C
Thank you ! Will have to look for these
July 02, 2018, 02:29 PM
Tommy C
These 6 new cards and the sticker are turning out to be tough to find.
None have appeared "you know where" more than a month after the show. Only show attendees seem to have them.

August 29, 2018, 11:15 AM
David R
I have never seen these new, 2018 cards or stickers available anywhere. It seems like only a handful of the die-hard Mego collectors have them in hand, and they have not been generously distributed, unlike with past cards.
In particular, the card 100 of the Mystery Man/ Astronaut. I was lucky to find one, but it is not in the greatest of shape. Oh, well
August 29, 2018, 04:09 PM
Tommy C
These used to be fun to collect. But starting with these new cards from 2018, unless you attended that show in Ohio in June, GOOD LUCK on finding them. As David said, they seem to be in the hands of a select few Mego guys, who are not willingly releasing them to others. Very frustrating, as it takes the fun out of collecting, IMHO !
December 13, 2018, 04:30 PM
Tommy C
The 2018 Batcopter sticker and the Action Jackson preview card have been on ebay a few times since the summer
However, from what I can see, the card #100 of Mystery Man has only been on ebay once over the past 6 months
And the 4 new Wizard of Oz cards, only a few times. The four from 2017 are easier to find
May 01, 2019, 01:41 PM
David R
The 2019 Mego Meet is June 14-15 in Columbus, Ohio
Supposedly there will be NEW cards there
Anyone going ?
June 10, 2019, 05:16 PM
Tommy C
Looks like the 18 Action Jackson cards that were supposed to come out last year, but never did, will be at the Mego show in Ohio this weekend
Anyone attending ?
June 12, 2019, 03:30 PM
David R
This was just posted about the new Action Jackson / Mego related cards:
"Due to timing, the first twelve of these cards will be available at MM this weekend, the following six will be mailed out to all sponsors and of course folks who share. We were gunning for the 18 but sadly, it wasn't in the cards (pun intended)"