Non-Sport Update's Card Talk
Open That Box! Day 2011 Submissions
April 09, 2011, 05:23 PM
EriktheArchitect
Open That Box! Day 2011 Submissions
Just got home from Spring Break so I am a little late to the party. Tired too. Wife has left to go to work and after I get the girls settled with dinner and off to bed I hope to open these 3 boxes.
A retail SW Galaxy 5 box and Wacky Packages Old School 2 from Topps. And an opened box (Sketch removed) of Marvels Dangerous Divas by Rittenhouse Archives I got at Auction. 24 packs for $11.00 including shipping.
I did open the WP Old School 2 to see what the extras are!
A poster and a pack of extras!
Inside the bag was
A Jay Lynch Sketch of Frankenstein
Wacky Packages Old School 2
17 Packs opened had my first 9 Card Check list Puzzle
21 Packs opened had my first set of stickers
23 Packs opened had 2 sets of stickers, 1 puzzle, 7 of 9 for second puzzle, 3 Triplicate stickers and 7 (4 diff) puzzle checklists plus one unopened pack.
Classic old school stickers with blank tan backs.
Marvel Dangerous Divas Box 2724 (Opened sketch removed) 24 packs
1 Set
33 Extras
E10
S3, S4, S9
W2, W8, W9, W10
7 Foil Parallels?
Good thing I only spent $11.00 for 24 packs because the base set is pretty lame! Matte finish old school look with puzzle backs and no text.
Too bad the puzzle backs don't line up numerically when placed in 9 pocket pages.
Opened the Retail box of STAR WARS Galaxy 5 while watching the Original STAR WARS on TV!
Got one complete base set an 35 extras, 6 Anti-Theft cards, 9 of 15 foils and 4 of 6 Etched Foils. Was fun opening while watching the movie.
Also don't like that the backs are oriented 2 different ways. Can't line them up numerically in 9 pockets either.
This message has been edited. Last edited by: EriktheArchitect,

____________________
Dazed and Confused
April 09, 2011, 05:34 PM
MILLHOUSE
here are my scans of the 12 sketch cards that I got from my 12 boxes( a case) of Marvel Dangerous Divas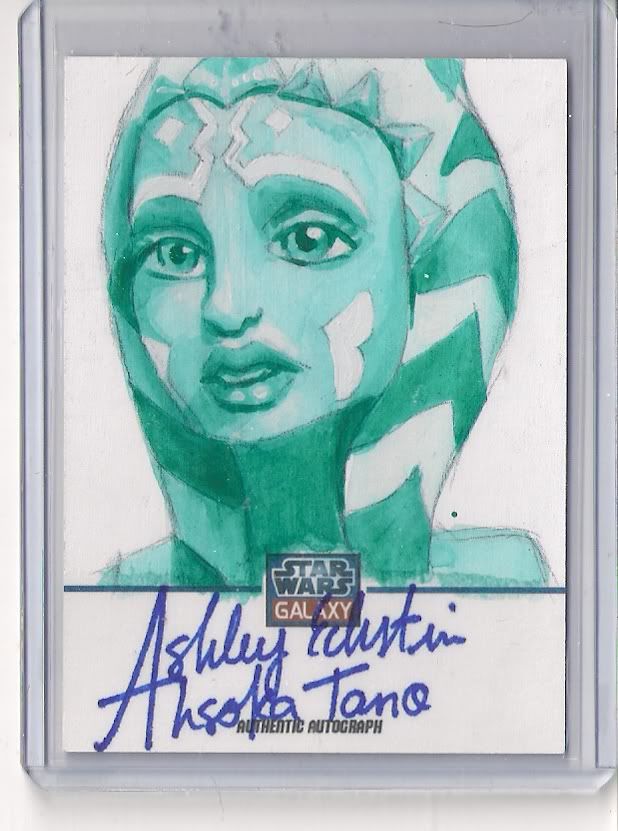 I also managed to make a complete parallel base set from my case and 3 complete sets of the 12 card women of marvel chase set and 2 complete sets of the sultry seductresses chase set and 1 complete set of embrace cards
from a very happy millhouse
This message has been edited. Last edited by: MILLHOUSE,
April 09, 2011, 05:53 PM
kbmum
I just had fun opening three packs of Woodstock Generation and one box of Harry Potter Memorable Moments 2. I've never opened so much in one day! I pulled a Jimi Hendrix sketch by Steven Miller, a VW bus sketch by David Debois, and a Summer of Love sketch by David Girdley. The VW sketch is really nice up close. It looks as if it were screen-printed instead of hand-drawn.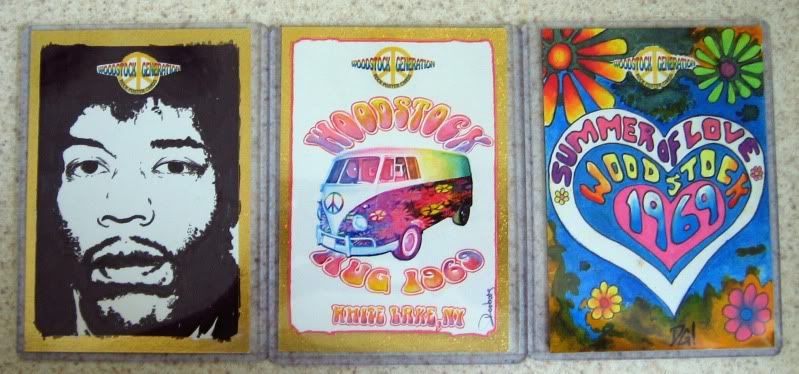 I love Harry Potter cards, but I've purchased only a couple of boxes over the past two years, mostly due to my really bad luck with pulls. Still, I found a Memorable Moments 2 box at really good price and couldn't resist. I'm really glad now! I pulled a common auto (Ryan Nelson as Slightly Creepy Boy) and a C12 Hermione/Ginny double costume card numbered 175/250. The Hermione swatch is a three-color variant.
I never would have bought all of the premium packs and the box if it weren't for OTBD. Thanks, Harris!
April 09, 2011, 06:15 PM
goldenavenger
Well, I was able to get to the Elyria show today. Ed Webb helped me out by hooking me up with these 3 boxes.
The Divas box didn't last very long, my daughter and her friend opened the box on the way home.
Here's a better scan of the sketch. It's by Adam Cleveland......
I got a full base set with extras.
Also chase cards.....
W2, W7, W9
S5 and S6
E17
And parallel cards 14, 17, 26, 36, 48, 53, 62 and 71
Maybe I'll open the other 2 boxes of Robots later.
April 09, 2011, 06:41 PM
Miss Lizzy
5th and final box:
Star Wars Galaxy 5
Sketch - Luke(?) by Jeremy Treece
Inserts:
Lost Galaxy - 2 of 5
Silver Foil - #1, 3, 5, 6, 8, 9, 11, 14 (of 15)
Gold Foil Parallel - #1 of 15 (#697/770)
Bronze Foil Parallel - #10 of 15
Etched Foil Cards - #2, 3, 5 & 6 (of 6)
1 complete base set
____________________
www.misslizzyscollectibles.com
Twitter: @MLCollectibles
April 09, 2011, 07:22 PM
QBall
Only opened the one box this time around, FF Archives. Cracked it at the club today, surrounded by people playing Magic the Gathering.
A couple of dupes on the Nemesis cards but everything else was new, inc. a very nice Daryl Banks sketch card of Crystal.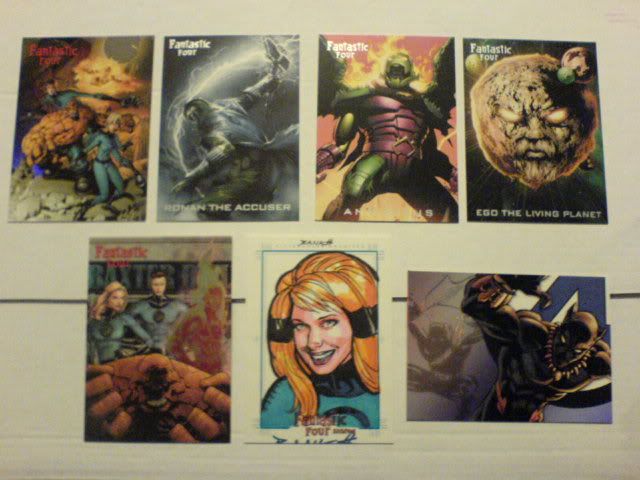 April 09, 2011, 07:39 PM
glim
Here is my submission. I opened a box of Heroes Archives. Got a few nice autographs, but I got shorted a Relic card. (I figured out why later, my box only had 23 packs in it)
The inserts were:
G1, G5
Q2, Q9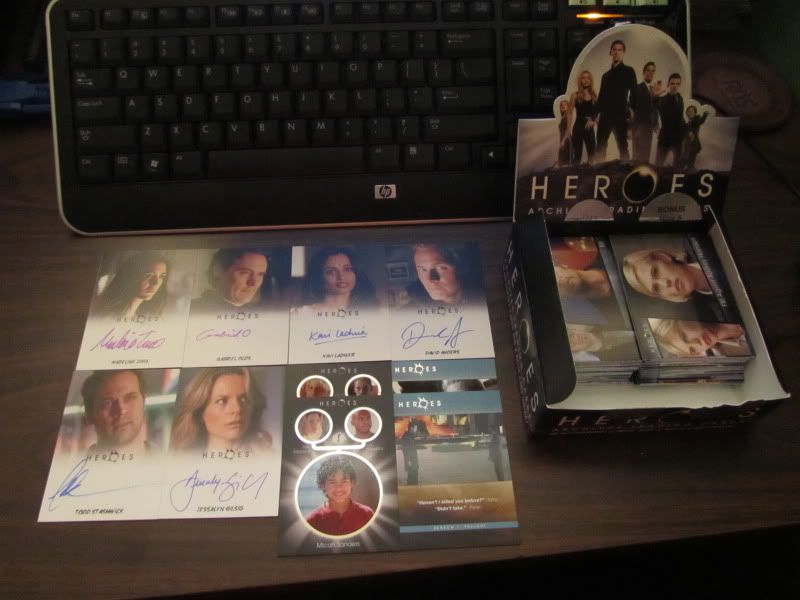 April 09, 2011, 07:51 PM
barobehere
My son and I just finished cracking the only box I have never opened. A box of 1983 Topps Star Wars Return of the Jedi Series II. It was fun opening the packs and luckily the concrete gum did only minimal damage to a dozen or so cards. We got 1 base set and sticker set and an army of singles. It was fun as my son grows older and his interest in cards is starting to fade as the intrest in girls, computers and iphones grows it was nice to share this.
April 09, 2011, 07:55 PM
comicbookfan
Open that box 2011
I opened a box of dangerous divas numbered 977
I received the base card set, 8 parallel cards, two sultry seductress cards (s5 & s8), one embrace card – e17, and 3 women of marvel cards (2,7,9)
Sketch card is Black Cat by NATO (Raimundo Nonato).
I loved the artwork on the back of the base card sets especially the pieces by Terry Dobson and Greg land but all are very cool.
I liked that the cards were landscape with 3 of same character and that often portions of the images went from one to the other card. I obviously lost touch with the comic world as I don't know who some of these divas are. I loved the sultry seductress set but didn't think the foil covering suited the embrace cards as much as it did in the women of Marvel set. I think it is because some of the backgrounds are a lot darker for the divas sat.
All in all a nice addition to the women of Marvel release; can't wait to see what Rittenhouse does next with Marvel.
April 09, 2011, 07:56 PM
make-mine-marvel
I played the game a little different.
Last month I cracked a case & a half of Hellboy.
When I hit the sketch, i pushed the other packs to the side.
Today I decided to open all the leftover packs & make sets.
BTW - - this took a LOT longer than i thought.
I made a master set of all inserts;
and TEN base sets. Cripes.

____________________
- - - - - - - - - - - - - - - - - -

@Sketchcards on Twitter

April 09, 2011, 08:10 PM
Kennywood
Good evening all! I'm a little late in posting this year. We had to get to a JC Penney's sale this morning. Lol
Before we left, though, I did open my box of Warehouse 13 cards that I bought from Ed Webb at last month's CECE show. Here's what I got:
1 complete base set plus many extra.
Artifacts "Snag It, Bag It, Tag It" Cards
A05 The Farnsworth

A06 Jubilee Grand Poker Chip

A07 Phoenix Charm

Artifact "Relic" Cards

R7 Leena

R? Myka Bering

Autograph Cards

Saul Rubinek as Artie Nielsen (Very Limited)
Michael Hogan as Warren Berin (Limited)

Gallery Cards

G5 Mrs. Irene Frederic

I'm VERY happy in getting the Saul Rubinek card!


My thanks to the Tosers & Non-Sport Update for once again organizing and hosting Open That Box! Day this year! It's just somehow more enjoyable when you know that there are other collectors around the world that are participating.
This message has been edited. Last edited by: Kennywood,

____________________
Lucy Van Pelt: How can you say someone is great who's never had his picture on bubblegum cards?
April 09, 2011, 08:21 PM
Electrawoman Cards f/k/a jane
Give me credit for holding out, Harris!! I opened a Marvel Dangerous Divas box. Here's my pull.

____________________
Anne Welles - "You've got to climb Mount Everest to reach the Valley of the Dolls."


April 09, 2011, 08:43 PM
Darth Vader Fan
I just finished with my Wacky Packages Old School 2 box and it was a blast to open. In the box I received all of the stickers and made 2 sets with a few extras left over. I also got 8 of the 9 puzzle cards, but out of 24 packs I still coundn't make the whole Bad Tooth puzzle though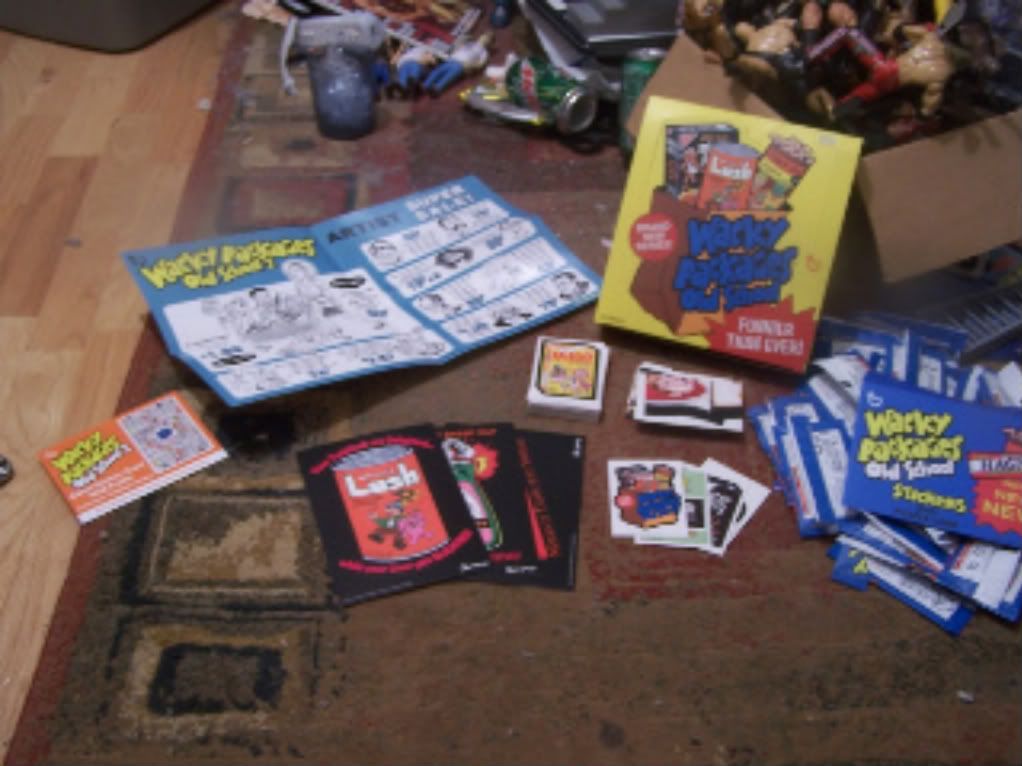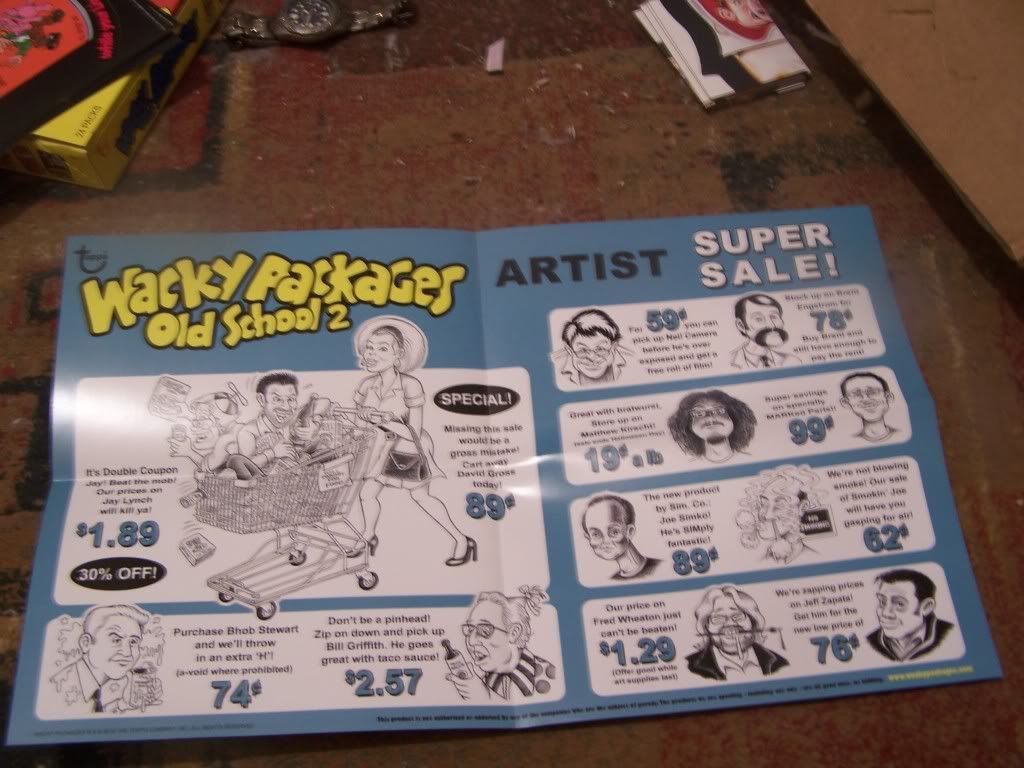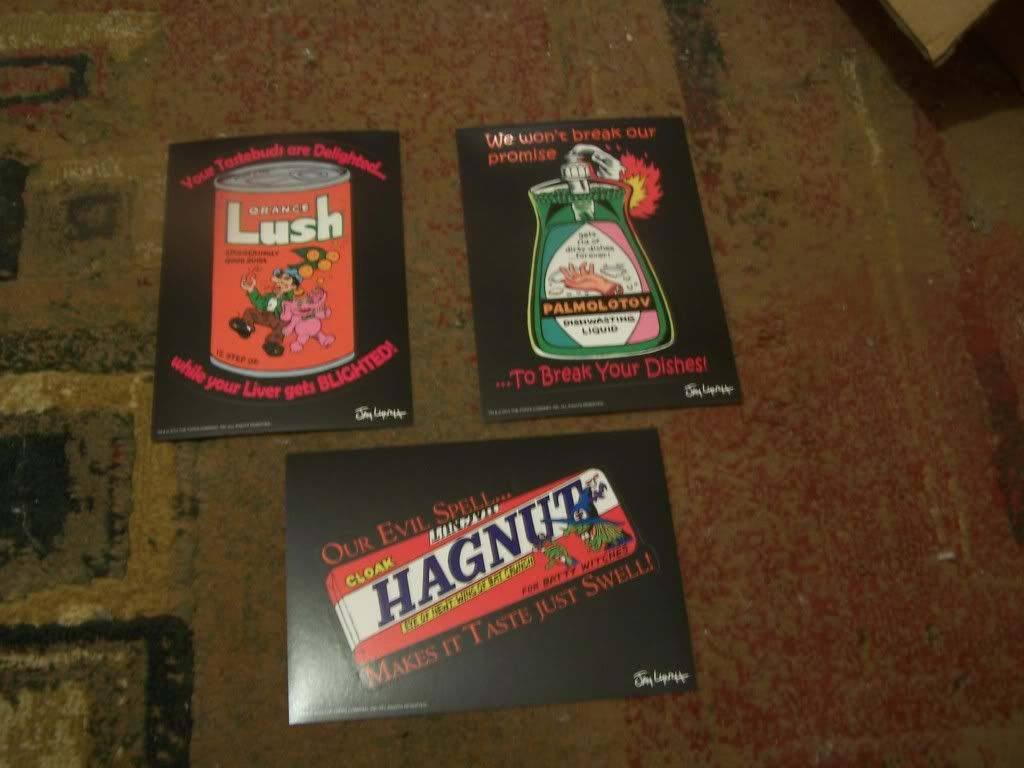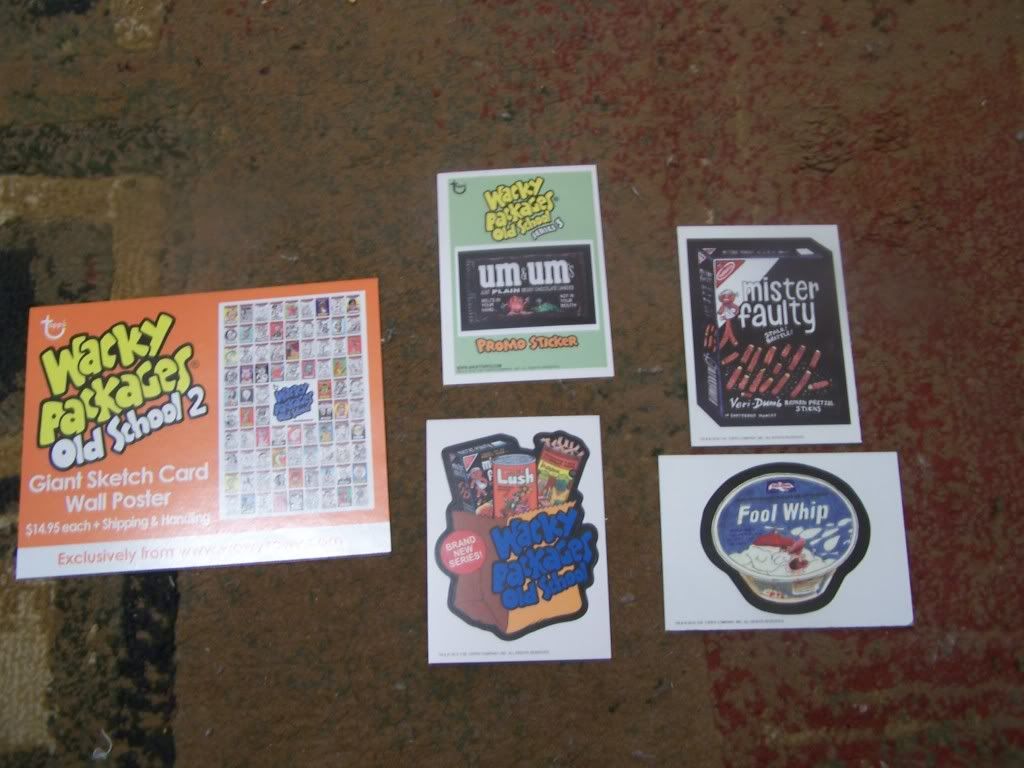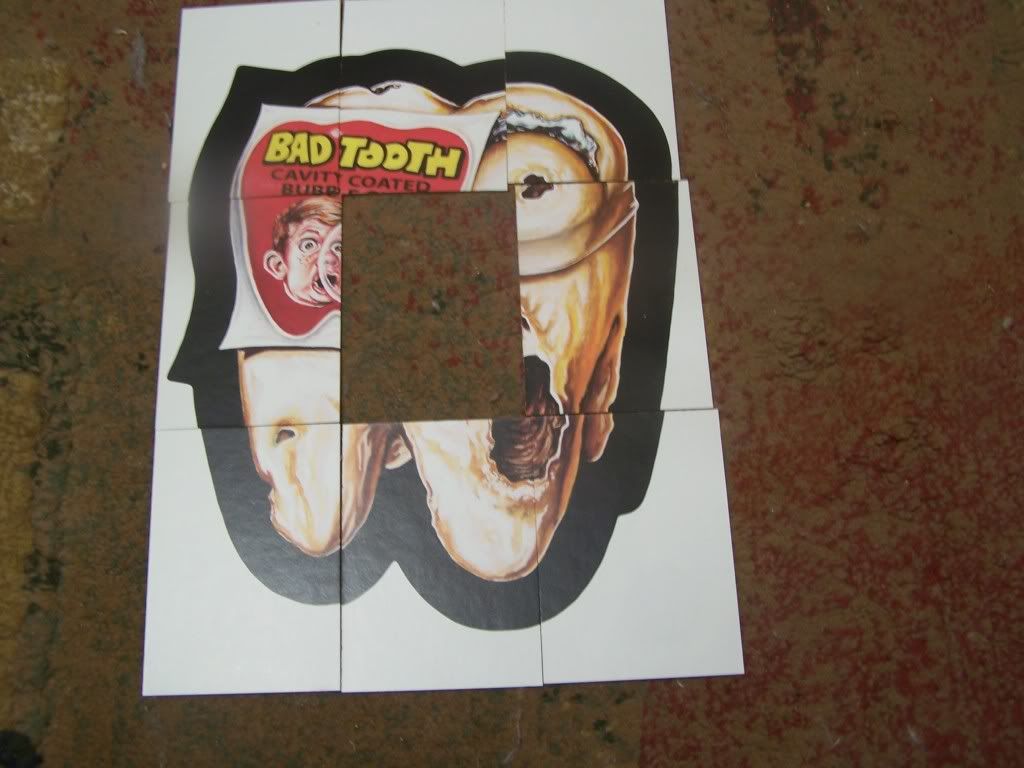 And here's the sketch I received by Bill Griffith,
Happy OTBD guys
This message has been edited. Last edited by: Darth Vader Fan,
April 09, 2011, 08:56 PM
Chuck Bartowski
I wanted to do a live break, but my webcam wasn't working when I checked, but here is what I pulled.
First up BSG Season 4 Box 372/5500 - Going to end up picking up all the autos and costume cards from the Rittenhouse BSG series so I figured I'd start off by buying some boxes (although I do have the Helfer auto costume, and Helfer/Callis dual auto already...oh and the Keagan Connor Tracy auto). All of these are personal collection:
The best hit first Katee Sackhoff as Starbuck:
Dominic Zamprogna as James Lyman
Costume Cards
Cavil dual
Cally Tyrol
Next up is Charmed Forever. I've been trying to put together the Pieceworks set for about 6 months. I had PW2, PW2 (pattern), PW4 (pattern), PW5 (red), PW6 (pattern), PW7, PW8, PW10, PW12, and PW13. Obviously I was hoping for a PW7 (embroidered)...I previously opened 5 boxes and pulled some doubles as well as PW4 (plain), PW1, and PW9. Here are the hits from the box I opened today:
PW4 (plain)
PW5 (grey)
So nothing huge, but I was happy to pull one that I need.
Next up is Star Trek Enterprise Season 3. Mainly bought the boxes hoping to pull a Blalock, but didn't happen...pretty funny thing...I busted six boxes of this earlier this week, and the first box I opened had these exact same two autos.
Box 7715/8000
Steven Culp as Major Hayes - He's probably best known for his role in Desperate Housewives
Nikita Ager as Rajiin
Next is Star Trek The Movie 2009. I missed out on this product when it was originally release, and paid a good deal for the box. Here are the hits:
Chris Hemsworth as George Kirk - still hard for me to believe this dude is Thor
Male Cadet Costume card
Lastly, busted a box of Marvel Dangerous Divas. Thought I was done with comic sketch card sets, but this one pulled me back in.
Box 7030/8000
Invisible Woman by Juan "Tonio" Fontanez
All in all a fun break...a little bummed with the doubles in Charmed, and Star Trek, but they were still both fun to break.
April 09, 2011, 08:57 PM
Ted Dastick Jr.
Had fun opening a box of Indiana Jones KOTCS with my 7-month old daughter, Lily. It's her first box break, she loved it!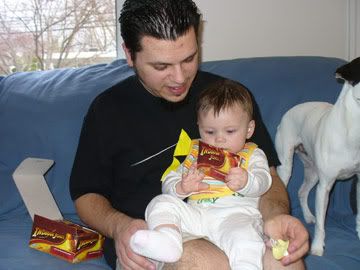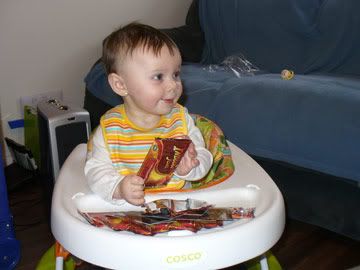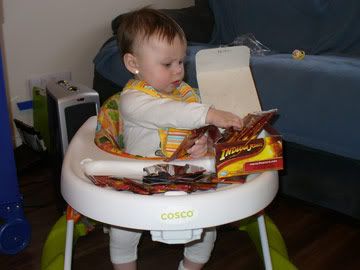 April 09, 2011, 09:01 PM
Batman
Very cool, Ted! She's a cutie!

____________________
"The problem, I'm told, is more than medical."
April 09, 2011, 09:23 PM
B-Dunc
this is my first time participating and i've been saving a Marvel Dangerous Divas box for the occasion.
these are really nice cards and i like how the backs of the cards are puzzle of larger art works.
my one box met the expected ratios:
1 base set (with 33 extras)
8 parallels
3 Women of Marvel
2 Sultry Seductresses
1 Embrace
and 1 sketch card
the sketch is by Jomar Bulda, but i'm not sure who the character is.
April 09, 2011, 09:32 PM
KADRAN00157
It's the one and only KADRAN00157 with his submissions
Opened 2 boxes of Spiderman 3 today, got 4 common Auto's and 2 of each chasecard.... Can't complain.....
Did six boxes of Dangerous Divas..... Thanks to the Awesome Millhouse I now need only 12 Parallel cards and t Embrace cards for a mini master set
Here are the sketches in no particular order.....
1) Female Thing by Buddy Prince
2) Hellcat by Ghislain Spiderguile Tchissafou
3) Don't know the character but the Artist is Christen allen
4) Don't know the Character but the Artist is J C Fabul.... Nice
5) Black Cat by Luiz Fernando Scheidt
6) She Hulk Sketchcard Jamm
Drawn By the Artist Richard Cox, coloured and inked by the artist Cabbie
Superb
One Awesome open that box day for meo
KADRAN00157
April 09, 2011, 10:05 PM
H_Toser
Awesome posts everyone! You got a couple more hours to go. Plus, and as I said in the other thread, I'll leave the thread open tomorrow to for any latecomers.
Just a few quick things, while I'm posting already.
- There's been some really great sketches pulled today. I particularly liked the Marvel and Wacky Packages sketches.
- I give you credit, Jane!! I give someone else in your household a lot of credit for making this happen as well.
- Really liked your video break, Ryan. Loved the animations and not sure how you did that.
- Nice to see Rita and Ted & Lily.
- Don't forget to send me original pics. We're mainly looking for your pictures of your boxes shown with people, pets, etc.
Thanks again.
April 09, 2011, 10:36 PM
nick9819
If I can make home in time my 4 boxes of BSG were.delivered I will be cutting really close