Non-Sport Update's Card Talk
Open That Box! Day 2011 Submissions
April 08, 2011, 09:00 PM
H_Toser
Open That Box! Day 2011 Submissions
Please post your Open That Box! day submissions in this thread.
April 09, 2011, 12:08 AM
Batman
Wow, can it be that I am first? Here is my daughter Megan with my first box, RA's Marvel Dangerous Divas, box # 5188 of 8000, she has just arrived home from a night with her boyfriend "Dave", who I refer to as "New Wave Dave", from a Garbage Pail Kid sticker from the recent Topps retro set!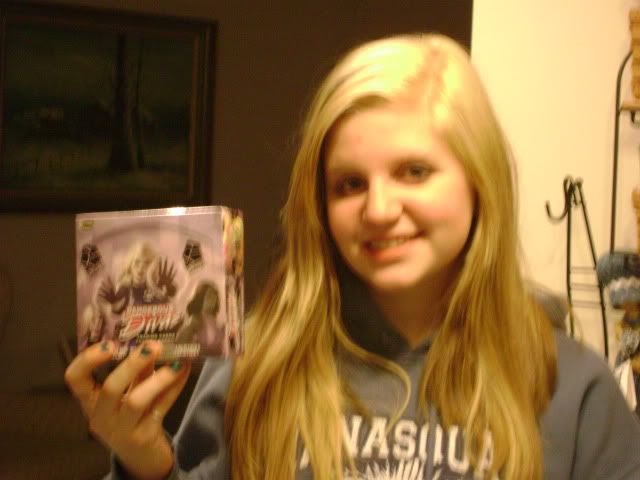 I am very happy with my first box, I pulled a nice sketch of the Invisible Woman, by artist Luiz Fernando Scheidt, who is EL, and I also got the pictured inserts which I needed for my master set. A great start, I will post my Star Wars Galaxy 6 box break tomorrow morning! Good luck to everyone, let's have some cool pulls!!!

____________________
"The problem, I'm told, is more than medical."
April 09, 2011, 12:40 AM
nick9819
My one and only box I had a box of season two also but could not wait and opened it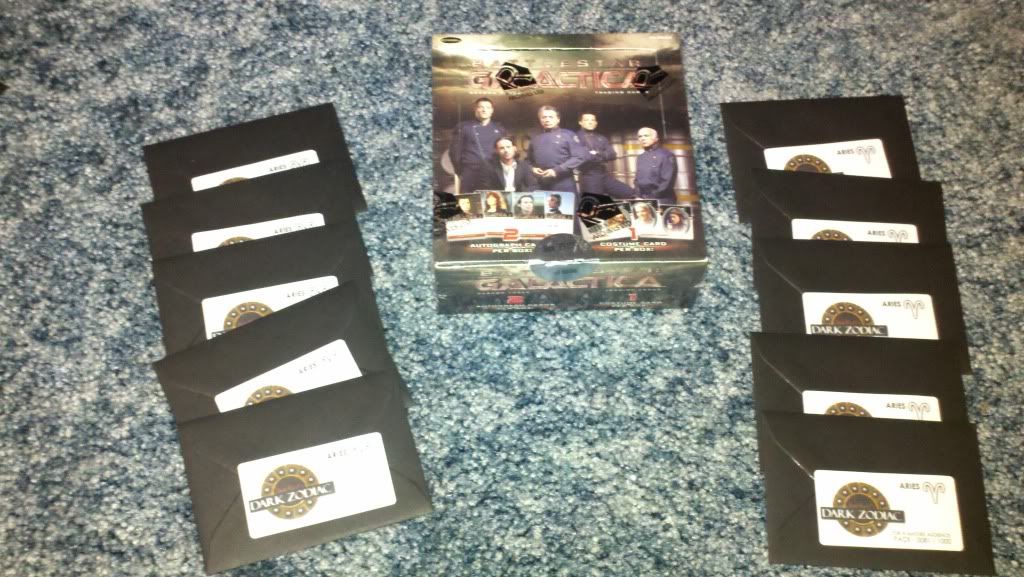 The aftermath
April 09, 2011, 12:44 AM
nick9819
I might make a trip to the super over price lcs in the morning and see if they have anything maybe a box of divas but doubt they will have one
April 09, 2011, 01:09 AM
CordeliaChase_Fan
So I opened three boxes tonight at the stroke of midnight. Pretty tired, so I will add things like box numbers and artists a little later. Here's what I opened:
Empire Strikes Back 3D: a beautiful full color sketch of Boba Fett by Matthew Minor(was hoping for a Carrie Fisher autograph or Leia sketch- oh well, this sketch is quite nice- pics later)
Quotable Star Trek: TNG (International Edition)
ST 1-5, 7-9
CB 1,5,6
Sela CCG Card
Captain's Women: W4
Diana Muldaur as Dr. Kate Pulaski
C2: Data costume material (Gold/Black- a dual swatch!)
Star Trek: Movies in Motion:
One full base set, 14 extras
All character motion cards except Data-C09, got two Chekovs instead.
Q5,7,9
POR 1,4,7,12
Autos:
Barbara March as Lursa
Rif Hutton as Klingon Guard
Nichelle Nichols as Uhura(VL)
Unfortunately, I didn't get anything new autograph wise, but I did get some nice trade fodder.
I still love Open That Box Day!
The Data costume is sweet and can now join my dual swatch Beverly Crusher.
Val
This message has been edited. Last edited by: CordeliaChase_Fan,

____________________
"what's that sound, it'll turn you around, it's a Doll Revolution..."- The Bangles, after Elvis Costello
April 09, 2011, 04:11 AM
AJJ
I went for a Box of Angel Season Five this year mainly because I hadn't opened any Inkworks for a while:
I made a full base set, was short one of the puzzle pieces and pulled Marc Vann as Dr Sparrow auto and PW6 Shirt worn by James Marsters in "Why we Fight":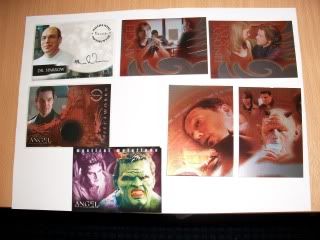 Have a great OTB day.
This message has been edited. Last edited by: AJJ,

____________________
"No time like the present to change the future"
April 09, 2011, 05:11 AM
tangent
I like OTB day because I break stuff I normally wouldn't. Today I raided my 'leftovers' cupboard and pulled out a Spirit box (from the Ink Vault release) and Dexter season 3 (from a group buy I organised). I had also held a couple of boxes of Dangerous Divas since they arrived this week.
So what did I get?
Spirit yielded a pieceworks - robe worn by Scarlett Johansson. Of course, I also got a redemption card, auto of King (Lorelie).
Dexter was a great release by Breygent, I just don't watch the show. I pulled the Smits auto and 2 nice costume cards.
Finally, for the Divas, the sketches are Lak Lim Dagger (and Cloak) and Moondragon by Ahmed. The parallel foils for this set aren't always properly collated. I was one short in one of my boxes, but one of the 15 I did get was the one I needed because it was missing from my first case. Since I don't intend to fully break this case myself, I won't get a full parallel set so it was great to finish off the set from the other case.
April 09, 2011, 06:34 AM
batmancity
Hi There !
It's OTB 2011 live from Paris, France ! What a good way to start this sunny day (it's almost like summer here with high temperatures)
I've decided to get some recent releases as well as stuff I would normally never buy especially for my wife as she has other interests than mine. So here we go with a nice breakfast with coffee and croissants and of course, boxes !!! Our cat Baci was making sure everything was okay by guarding the place
We had the following stuff to open :
For me, 1 box of Star Wars ESB 3-D and 1 box Batman Saga of the Dark Knight
For my wife Adeline, I had a box of Disney Collector Cards, 1 box of Coca Cola Series 4 and 1 box of Dexter Season 3
For Batman, I ended up with a complete set as well as 2 etched foil cards. The only problem was that cards were really stuck and glued together damaging a lot of cards.
Fo the Coca Cola box, it was a lot of fun with nice graphics. A very pleasant surprise but I was missing a couple of cards to get a complete set.
As usual, the Breygent boxes are loaded with so many cool inserts. We had 2 costume cards of Laguerta, a couple puzzle cards and foil and...this nice card
Same thing for this Disney box with great cards and a special phone card inserted in packs as well
We finished with Star wars and the 3D series. To be honest, I was quite not excited by this but I must admit the cards are just incredible. Excellent work ! I also pulled a sketch card of Lando
To sum up, it was a very nice OTB day !!! Can't wait for the next !!!!
Enjoy your day folks !
April 09, 2011, 09:30 AM
MikeFitz
I'm glad I had my order in early, so I could get
one of the first boxes of Monsterwax's latest release of Jules Verne's Journey to the Center of the Earth/20,000 Leagues Under the Sea, in time for Open That Box Day.
I'm pretty choosy these days when it comes to what I can spend my money on, but I've been a big fan of Monsterwax sets for many years and couldn't pass this up.
As usual, I was not disappointed.
The box I received has a cool image of battling sea monsters from the "Journey" set.
Inside I was able to make two complete sets of 55 cards.
The first part of each set is the "Journey" story and the second half "20,000 Leagues".
I believe all the base set art was done by the late Ricardo Garijo who sadly passed away shortly after completing this wonderful art work.
These stories are timeless and beautifully
imagined here.
There are some terrific bonus cards as well.
There is a complete set of six Gallery cards
(G1-G6) showing other Verne stories including "Mysterious Island" and "From the Earth to the Moon" These are gorgeously done and feature a spot finish, highlighting a key element of the scene.
Next, there is a set of "Verne Vision" cards
numbered V-1 and V-2, depicting scenes of and discussing Verne's remarkable forward-thinking visions. These are amazing looking embossed cards.
Also included are two nice "Bio" cards of Verne and Ricardo Garijo which are informative and touching.
I also received a sketch card SC-1.
An excellent portrait of the main character in "Journey" Professor Lidenbrock. This was done by Ricardo's son Ricardo Jr. who is also a very talented artist and contributed all the sketches for this set. Odd numbered boxes have "Journey" sketches and even numbered "Leagues" sketches.
For an extra treat, there is, included in every box, either a metal print plate from this series, or a prize card.
I received the prize card and was fortunate enough to win an uncut sheet of this set, which I am thrilled about. The prizes are recieved by redeeming the prize card which is then sent back with the prize.
As a tribute to the work of Ricardo on this and previous Monsterwax sets, Kurt is giving 75% of the profits from this release to Ricardo's widow. A very classy act.
This message has been edited. Last edited by: H_Toser,

____________________
Golden Age Card Talk member.
April 09, 2011, 10:27 AM
Arvin Sloane
Here's my Star Wars Galaxy 5 box:
I managed to pull 8 of the 15 silver foils.
One Bronze Parallel and one Gold Parallel.
Four of the six Etched Foil inserts.
And a rather plain looking sketch. This definitely isn't to the standards of the Galaxy 6 product, but then I knew that going in. All in all a decent box. Good luck to the rest of the box busters out there.
April 09, 2011, 10:33 AM
Master
blah I hate being broke but I am going to pick up a box today after I get my car out of the shop. Then I can tell you what I got
April 09, 2011, 11:16 AM
Greg Geerts
I broke 3 boxes of Harry Potter and the Deathly Hallows Part 1
and a box of X-Men Origins: Wolverine. For the Potter I pulled:
Costume Card C5 - Lucius Malfoy's Shirt #276/500
Costume Card C8 - George Weasley's Shirt #500/580
Cinema FilmCard CFC5 #018/247
Cinema FilmCard CFC8 #208/247
Autograph Card of Simon McBurney as the voice of Kreacher
Prop Card P12 - Clothes Pegs #030/110
I was hoping for one of the big autos from the Wolverine box...didn't
happen. I got Aaron Jeffery as Thomas Logan and a very nice sketch by
Kevin West!
Had a good time opening these and pretty happy with the pulls!
Looking forward to seeing what everyone else does today. Enjoy!
Greg

____________________
Please note the updated email address in my profile!
April 09, 2011, 12:17 PM
H_Toser
I got a note from a non-member who has asked me to post his Open That Box! day entry. This is from Martin Bodnar of New Britain, CT.
Martin says...
I did it!
I opened a box of Marvel's 'Dangerous Divas"
(besides all the great chase cards, what a thrill to find that sweet, sweet prize - your very own individual sketch card!)
If you've forgotten your hobby, when you realize time has escaped you, or you simply need to add some fun to your daily grind - "Open-That-Box-Day" comes around once again to save us all! Re-connect with your hobby people, and spread the fun to others!
Thanks, NSU!
(you're the life-line in this industry!)
Martin Bodnar
April 09, 2011, 12:18 PM
Batman
After a good night's sleep, it was time to open my SWG 6 box this morning, but not before I had my Wawa coffee!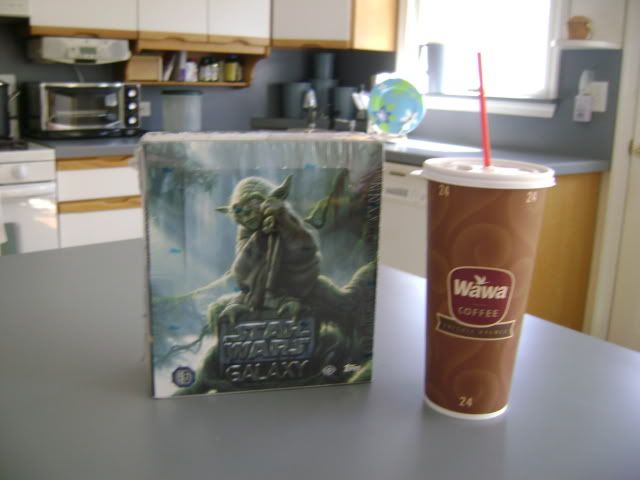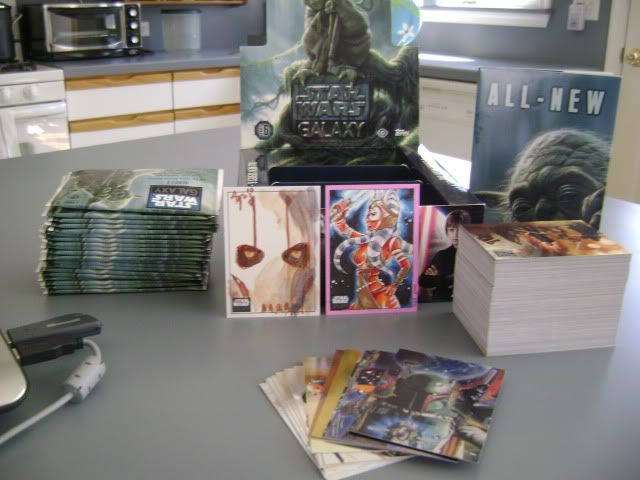 Received the appropriate number of foils and etched cards, but the big hits were the sketches by Anges Grabowski and Sanna U! Best OTB day for me ever!

____________________
"The problem, I'm told, is more than medical."
April 09, 2011, 12:29 PM
john the hat
nice pulls the manbat

____________________
life is like a spiders web, beautiful to look at, deadly when you get to wrapped up in it. jth 2007
April 09, 2011, 12:49 PM
nick9819
very nice star wars break
i was hopeing to find a box of that at the comic book place in the mall but they had zero non-sports boxes
so these were the closes boxes i could get there
closed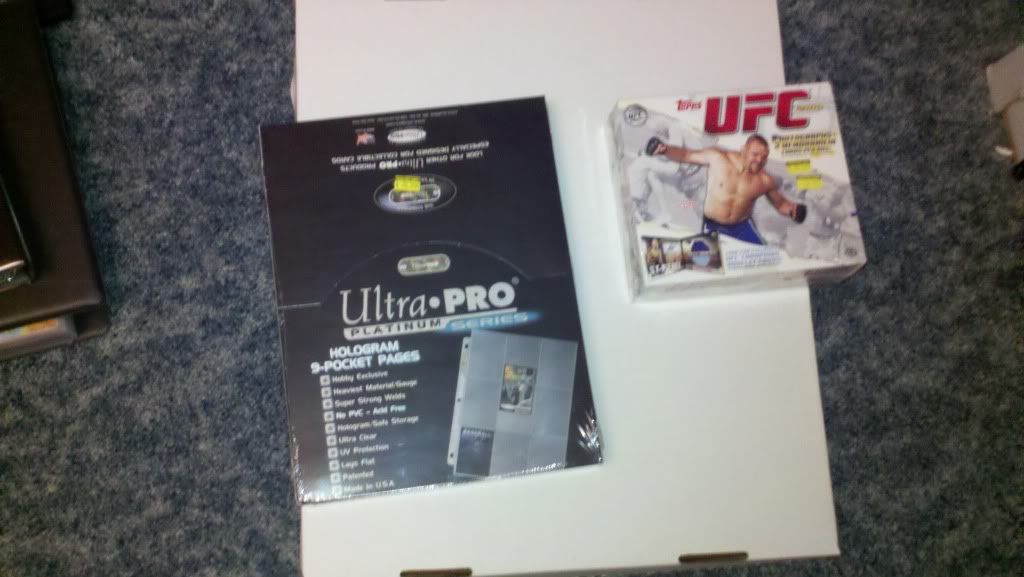 open
i had to get creative the cardboard box was a dud nothing in it : )
April 09, 2011, 12:58 PM
H_Toser
For Open That Box! day, I opened a box of Torchwood. It's kind of an unconventional box as it's a trading card series/game hybrid. The card series has been out for a while too. But I really like the show and I was given the box at last year's Memorabilia by our illustrious John The Hat, so it sort of had some extra meaning (that's John in the picture above and I see he's posted a couple of posts above too!)
I'm really impressed with the cards. They're plastic-y like game cards and the card images are great! It's a big set – 200 common cards. I was missing quite a few for a set but with a set this large, I don't think you could expect a full set. I don't think it's even possible. But if you want some great shots of Captain Jack, Gwen, Ianto, Owen, Toshiko, Rhys, and a ton of peripheral characters from the early series of Torchwood, this is the set for you!
On the chase card side, there are 25 rare cards (1:1), 10 super rare cards (1:6), and 5 ultra rare cards (1:24). I got the expected amount, though I did get many dupes within my rare cards.
Overall, a really nice set. It was fun to open them too.
April 09, 2011, 01:02 PM
Batman
Cool! I didn't even know there was such a set, have to try and track these down!

____________________
"The problem, I'm told, is more than medical."
April 09, 2011, 01:16 PM
hammer
Batman - if you want a box let me know & I can see if I can get one to bring to Allentown
April 09, 2011, 01:35 PM
TheUberBob
My choice for Open That Box! Day 2011 was The X-Files I Want To Believe from Inkworks. I pulled:
2 base sets
2 "In Search Of" cards S-6 & S-7 (1:11)
1 "Wanting to Believe" card WB-2 (1:17)
1 "Back to Basics" card BB-3 (1:23)
1 Autograph card A-6, Adam Godley as Father Ybarra
1 Very nice Piecework card PW-2 which says "a piece of the top worn by Gillian Anderson as Scully". Shiny!
Have fun everyone!
-Bob-

____________________
Reasonable doubt for reasonable people!