Click
here
for a larger-rez version of the picture below: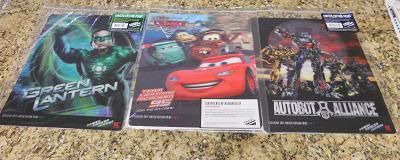 Pardon me for being smug, but I am thrilled that I – once again – scored a big WIN-WIN thanks to my wink-wink charm and mastery of the almighty English language! Hopefully my story will help some of you guys out, too, since I'M CONFIDENT THAT THESE POSTERS CAN BE
OBTAINED FOR FREE
.
Here's what I did....
A few weeks ago, late June-ish, when Cars 2 was still just a few days into its release, I went to one K-Mart to check out this promotion. (there are over a half-dozen in the SLC area) The toy section had dozens of the Green Lantern poster (#1 of 4), but only two of the Cars 2 poster (#2 of 4). They hadn't yet received the Transformers or Captain America posters (#3 of 4 and #4 of 4)). The first thing I noticed when I entered the store was an elaborately produced product flyer for K-Mart dedicated exclusively to Cars 2. The flyer was made on good quality card stock and stapled in the center making it a nice collectible by itself. However, the most important piece of info that I made a note of in my mind was the part that said the Cars 2 promotion (same as the others: buy $25 worth of toys, get the poster free) will END on July 2nd. Hmmm…..I said to myself, that's just a few days away! I realized that I could use this to my advantage.
So, when I checked out the posters in the toy section after grabbing the product flyer, over 6 employees, including the store manager, were stocking the area with new toys – boxes everywhere. I casually asked the manager about the posters and pointed out the promotion for poster #2 would end in just a couple of days "according to the flyer". I added this must – by default – mean the Green Lantern promo must already be over. She agreed. So, I simply asked…. "what will become of the posters after July 2nd?" She told me if I returned on the Tuesday after the holiday weekend – July 5th – she would give me the Green Lantern poster free, but she was reluctant to make the same promise about the Cars 2 poster because (as of late June when I was having this conversation) the store only had two. "Ok, THANK YOU very much, that's very kind of you" , I said, and I walked off and wished all the employees well and a safe holiday! (Extra charm never hurts!)
Well……I paid another visit that same day to another nearby K-Mart just to feel out those employees as well. There were fewer of the employees in the store, but the very young supervisor running the place in the absence of the manager admitted as well the Cars 2 promotion was ending in a few days and I would have to return "next week" to talk to a manager. While there, she casually told me about a big toy promotion they had the previous Saturday (that would have been June 25th) during which the store gave away massive paper posters of the Cars 2 collection of toy cars. Because she had two left over, she went ahead and included one large poster in each of the Cars 2 lenticular packages – two total, and the only two lenticulars in the store! Again, I committed to memory what I found and left bidding her good day.
Fast forward to today. I never went back to the other K-Mart on July 5th due to other family commitments. Today, I was out with my two children. My 13-yr-old son needed a mandatory physiocal for his upcoming Boy Scout camp for next week. After we were done, I remembered the K-Mart lenticulars and decided to try my luck (*sigh* the serene life of a teacher with Summers off! It's sweet!). I was closer to the one where I dealt with the female supervisor I mentioned in the last paragraph. I went in and saw that one of the two Cars 2 lenticulars that she had stuffed with the large-size paper posters was still on the rack-along with another 3 or 4 dozen of all three posters (no Captain America yet). Obviously these things aren't selling, so I went back to the Customer Service desk and there was the male manager – as if on cue – right where I needed him. "I noticed that you still have plenty of the Cars 2 lenticulars left – with the promotion having ended on July 2nd, and I was wondering what I needed to pay you to buy just one without the toys?" His answer? "You only want just the one, right?" I said yes, and he smiled as he said, "Ahhhh, go ahead and just take one. Come back by here as you leave just in case I'm gone when you return. Let my Customer Service rep see it, then it's yours." I was a lot quicker than that….I returned with the one and only lenticular he had that also had the large-size paper poster and he said, Have a good day!
Then, I traveled a few miles to the other store where the female manager had told me she would let me have the Green Lantern poster for free. She wasn't there, but one of her supervisors was. I explained my story and he let me have the Green Lantern poster. As he handed it to me, he looked at the Transformers poster and said, "Y'know, these will never sell, so here – take this one, too!" I told him thank you very much very enthusiastically (but I was careful not to come off as too much of a dork) and left the store feeling pretty proud of my free score.
So….with some charm and careful wording, I suspect most of you will have the same luck – including with the Captain America poster when it arrives in the next week or so. If I can score these three posters at no cost, you all should, too – and I did it without any dishonesty or manipulation of the truth. So good luck to you guys if you try your luck as well. These posters are very nice and worth the trouble (but not the money).
Geoff
This message has been edited. Last edited by: geoffbovey,